A girl's yearning for foreign countries drives her to work on the global stage
Posted on March 19, 2018
General Manager Japan
Air Canada
WEISS Kiyo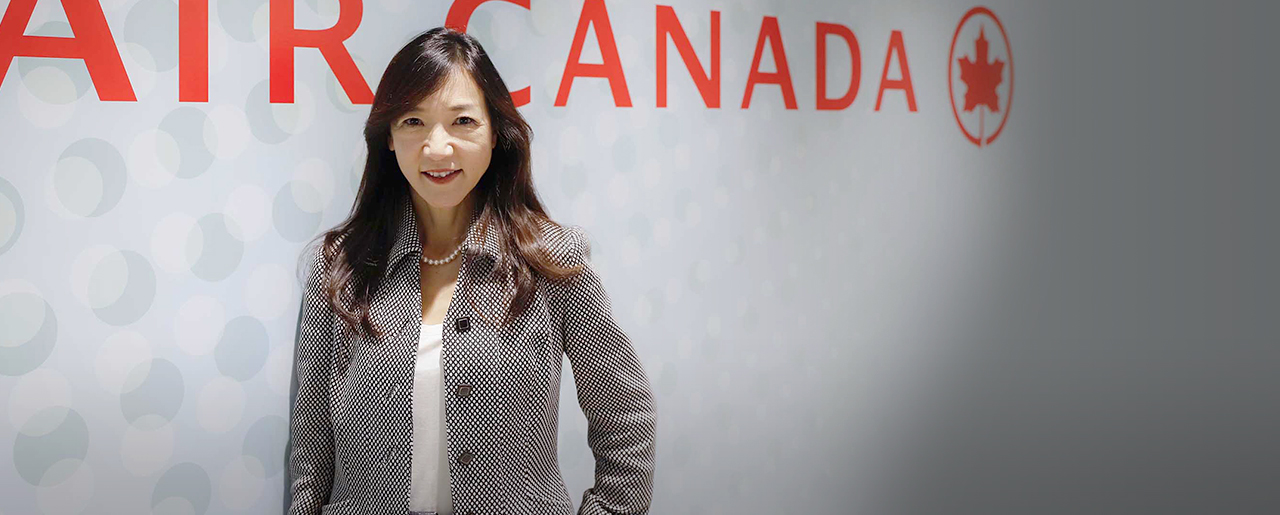 OVERVIEW
Through internship and overseas study programs, the arena of learning for university students has expanded beyond Japan to include the rest of the world. Here are some Aoyama Gakuin University (AGU) students and alumni who have nurtured global perspectives and thinking at AGU that have taken them to the world stage.
All difficulties at work can be overcome!
I am currently the general manager of the Japanese branch of Air Canada, the largest airline based in Canada. We are currently striving to expand the airline's routes departing from Japan and engaging in sales and marketing activities.
Air Canada is aggressively promoting flights to the United States from Haneda Airport via Toronto or Vancouver by emphasizing the convenient access to Haneda and the efficient immigration clearance when entering the U.S. In addition, to create new leisure demands, we collaborate with the Government of Canada's Destination Canada organization to invite senior management members of Japanese travel agencies to Canada and jointly formulate innovative strategies to draw Japanese tourists to Canada.
If we can increase the number of Japanese customers, our headquarters in Canada will consider increasing the number of flights to Japan. This will, in turn, motivate the staff at Air Canada Japan to think hard and come up with new ideas to encourage more tourists to visit Canada. My mission is to keep this virtuous circle going.
The airline industry is a highly recommendable workplace for outgoing individuals with a strong sense of curiosity, such as myself, who wish to interact with all kinds of people from around the world. Of course, there are risks of external factors affecting business performance, such as an act of terrorism or an outbreak of infectious disease in a region causing a dramatic decrease in the number of travelers to that region.
However, the most important thing at work is to always maintain a positive attitude. I find it tremendously fulfilling to find solutions for whatever difficulties I face, believing that there are no difficulties that cannot be overcome, and to push projects forward.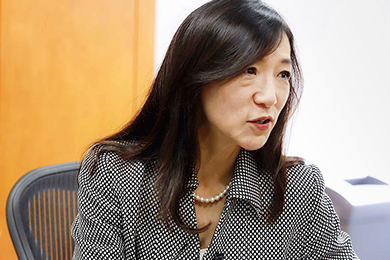 At work, I lately abide by the motto, "Do not run away! Do not be lazy! Do not be embarrassed!" I just happened to come across this phrase somewhere, but I am especially fond of the part "Do not be embarrassed!" which I always try to keep in mind. I also share it with my staff. People tend to feel "shy and embarrassed" when others see them working hard, and hesitate to openly demonstrate their efforts. However, being embarrassed prevents us from moving forward. I try to bear in mind that we should work hard with aspiration without feeling embarrassed about it.
Servant leadership skills naturally acquired through my student life
It was my father who first sparked my interest in the lifestyle and culture of foreign countries. An employee of Kobe Steel,Ltd., he was posted to many countries including India and Bahrain. He used to tell me all about the cuisines, cultures, and customs of the different countries he stayed in, which made my mind wander off and dream about countries I had never seen.
I started going to afterschool English classes when I was in elementary school, and in the summer of my second year at junior high school, I did a homestay in Idaho in the United States. My host family had a farm, so they let me go raspberry picking, horseback riding, and camping in the woods. Life in the American countryside was a totally new experience for me and gave me unforgettable memories of a lifetime. At the same time, the homestay experience turned my gaze to the world.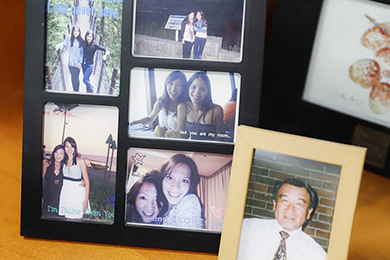 I studied for seven years in total at Aoyama Gakuin, at senior high school and university (Department of English, College of Literature). Students here tend to coexist in harmony with others instead of competing and trying to outstrip one another. Including myself, many of the alumni seem to go about adhering to this spirit without even being aware of it. Aoyama Gakuin has been upholding the vision of cultivating servant-leaders to create a brighter future. The Aoyama Gakuin spirit of listening to and trying to understand others by putting oneself in their shoes is indeed a characteristic feature of a servant-leader.
As a university student, in addition to engaging in academic tasks, I was also an active member of a circle called the Basic Ski Team and also worked hard at my part-time jobs. I especially remember working as an exhibition booth narrator at the Tokyo Motor Show and computer tradeshows, introducing products and services for exhibitors. Thanks to that job, I managed to get over my stage fright.
The year I graduated from AGU, 1985, was the year preceding the enforcement of the Equal Employment Opportunity Act. I joined MITSUI & CO., LTD("Mitsui"), where I engaged in supportive roles for male employees, but as I became more familiar with the company's business, I started to develop professional aspirations. Seeing male employees go on overseas business trips and entertaining clients at fancy restaurants, I too wanted to try doing business like men.
I left Mitsui. During the next two years I intensively studied English at Simul Academy to acquire genuine communication skills applicable around the world. Then, I worked for a consulting firm affiliated with the Economist Group. When I was looking for my next job, I spotted a job offering by United Airlines in the Japan Times. This marked the beginning of my career in the airline industry. From 1990, I worked for United Airlines for 19 years, and then, in 2009, joined Air Canada. Since 2013, I have been serving as the general manager of the Japanese branch.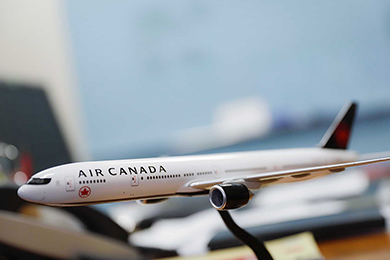 What is the appeal of working in a global environment?
I must mention that my husband's cooperation is crucial in allowing me to concentrate on my work. He loves cooking and does all the cooking for the family. When raising our child, he was also spontaneous and proactive, intricately coordinating his time and mine. Thanks to him, I have been able to maintain a good balance between work and family affairs without being constantly swamped with household chores. He is my strongest work supporter and the most reliable person to turn to for advice.
What I most look forward to is spending time with my daughter, a junior student at a university in Boston. When I can take some time off work, we travel together and talk about her boyfriend and workout programs we are into over dinner.
I am currently involved with Aoyama Gakuin as the president of the Aoyama Travel Society and the vice president of the Aoyama Keizaijinkai (businesspersons' society). Through my interactions with a wide variety of alumni from all generations and industries, I cannot help but note a common gentleness shared by them as well as an eagerness to listen to others. Each and every one of the alumni is a servant-leader.
Meanwhile, if I am asked what kind of leader I am, I would like to say that I am a "leader of coexistence," in the sense that I listen intently to my staff to find out what they desire, consider how I can be of help, and also listen to my inner voice. I listen to everyone to produce results together as a "leader of coexistence."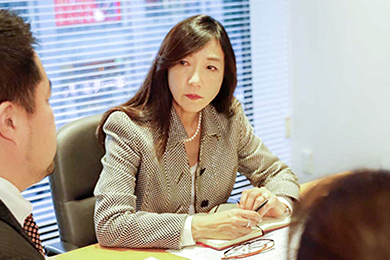 What is the appeal of working in a global environment? In Japan, we share common notions that allow us to understand each other without having to explicitly express our thoughts. However, once we are outside Japan, communication can only be achieved by clearly putting your ideas into words, while fully digesting and taking in other people's views. Through such communication, we can absorb values we had not known before and broaden our horizons. I believe that this is the appeal of working in a global environment.
A day in the life of Ms. Weiss
8:30 a.m.

Arrive at office; check emails; make a "to do" list for the day

9:00 a.m.

Telephone conference with the headquarters in Canada

10:00 a.m.

Meeting with a team of internal staff

12:00 p.m.

Lunch meeting with business partners

3:00 p.m.

Telephone conference with an Asian staff team

6:30 p.m.

Dinner at the Embassy of Canada with members of the Canadian business community including the Canadian Chamber of Commerce
Department Graduated
Department of English
With a faculty of professors that includes a large number of non-Japanese teachers, the Department of English boasts a full curriculum of a consistently high standard. A variety of courses for improving practical English skills are also offered. The Department of English is a symbol of AGU's strength in English education.