How My Deep Ties to Japan Have Unlocked New Realms of Possibility
Posted on September 7 , 2023
School of International Politics, Economics and Communication (Exchange student from the University of Bologna, Italy.)
Mario Philipp Rummel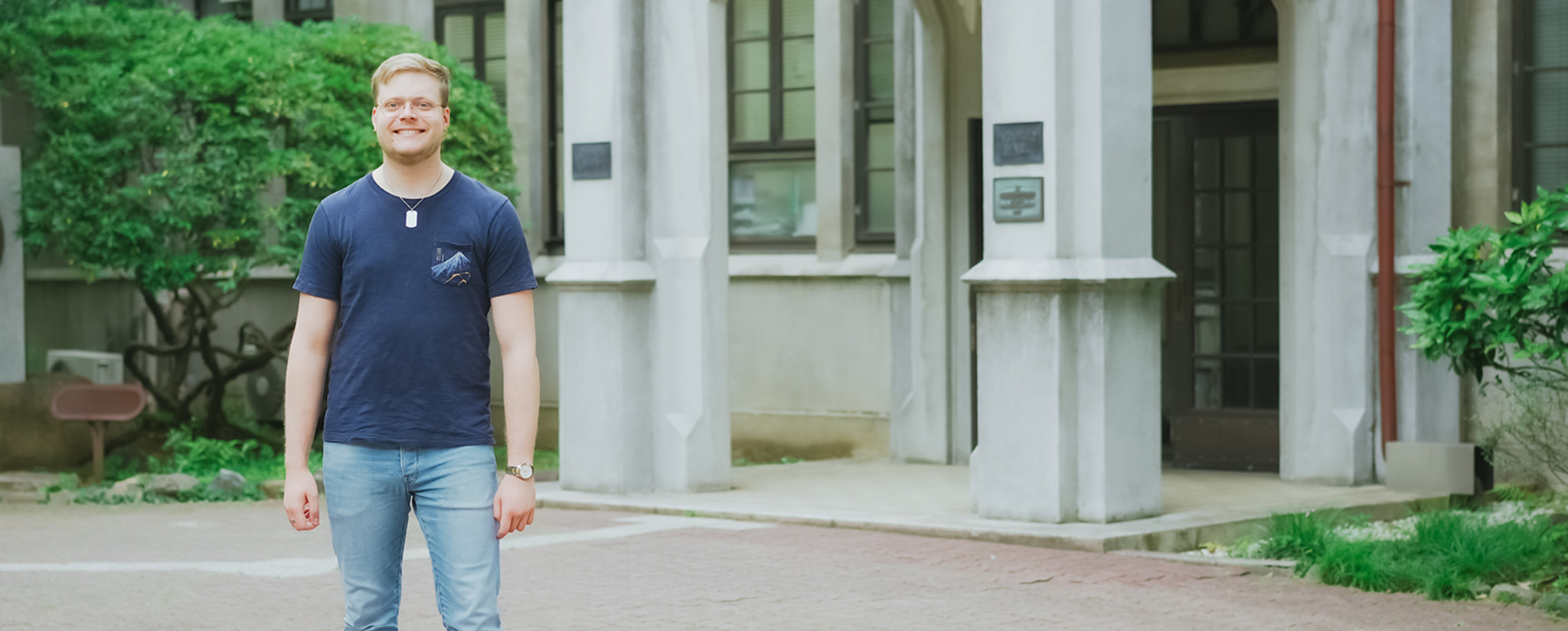 OVERTURE
In a world full of diverse cultures and destinations, certain places leave an indelible mark on our hearts from the first encounter. For Mario Philipp Rummel, who grew up in Germany, that place was Japan. His earliest experiences with Japan led him to develop a profound respect and affinity for its culture and its people. Now, finally able to live in Japan, Mario has the platform of Aoyama Gakuin University to deepen his understanding of the country and pursue his dream of becoming a diplomat.
The unforgettable impact of my first exposures to Japan
My first ever exposure to Japan was in 2011, when I was 13 years old. My family was returning to Germany from a trip to New Zealand, and we had a layover in Osaka. Exiting the plane, it was like entering an entirely different world from where I grew up. Everyone was so nice, everything was so organized, and the service was impeccable. I was immediately fascinated by this country, and though we didn't leave the airport terminal, that experience awakened an interest in Japan that would last a lifetime.
Later that same year, on March 11, the Great Tohoku Earthquake and Tsunami devastated Japan, and it was also the day I turned 14 years old. I was sick at home that day, so I turned on the television and saw the horrific events unfolding in Japan. It pained me deeply to see the suffering that people were going through. I was particularly struck by a scene on TV of a woman who was standing in front of her destroyed house. She was not crying, but rather had a stoic demeanor and resolution to not give up in the face of the tragedy. The emotional bond that I felt from this impactful day made me want to develop a deeper understanding of Japan, its people, its culture, and language. I became determined to come to Japan.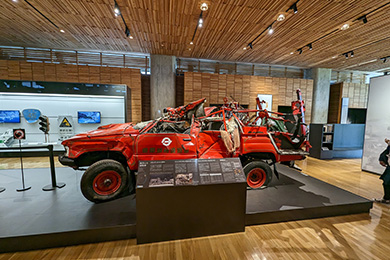 Visiting the "Iwate Tsunami Memorial Museum" and seeing the tsunami-engulfed fire truck on display, I learned the importance of protecting lives and living together with the ocean and earth.
First, I wanted to learn the language, but with no opportunities to take classes, I turned to books to learn as much as I could about Japan. I read a wide variety of books about all kinds of aspects of Japan. The most useful book I read was one called "Gebrauchsanweisung für Japan," which translates to "User Manual for Japan." It describes various aspects of Japanese society and its inner workings in a comical and entertaining way.
Overcoming the initial "Japan shock" opened my eyes to new experiences
After I finished my high school exams, I saved up enough money to visit Japan. I was on my own, and I had no Japanese language ability, so I was initially met with what I call "Japan shock," for the first few days. At the time, even in Tokyo there were many places without romaji letters on signs, and I didn't have any translation apps or GPS to help me when I got lost. I was completely overwhelmed by how different everything was. However, after four days, I released that feeling and accepted that being in Japan was a completely fresh experience, and then I could really enjoy the rest of my trip. I had a fantastic time visiting Hiroshima, Kyoto, and Tokyo.
I came in without really knowing what to expect from traveling in Japan, but I fell in love with the beauty of the country during the trip. I won't forget stepping onto a shinkansen bullet train for the first time and zipping through the countryside. After spending 12 days here, I had survived and met many wonderful Japanese people who helped me along my journey. I came home to Germany with a feeling of accomplishment and an itch to return in the future.
I could finally study Japanese once I began my undergraduate studies at Heidelberg University. I majored in Translation and Interpreting, and I chose Japanese as my third foreign language, after Italian and English. After a year of study, I visited a good friend living in Fukuoka, and we had a phenomenal time exploring Kyushu, Honshu, and Hokkaido. The basic Japanese I had picked up from a year of study opened all kinds of doors for me. It was then possible to have many social interactions, visit new places, and feel more comfortable navigating around.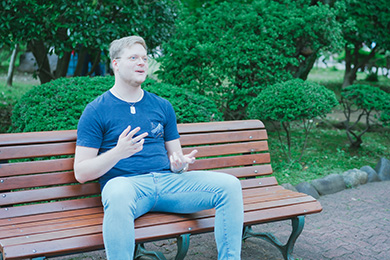 Why I yearned to stay in Japan for an extended period
My last short trip to Japan was in 2019, right before the COVID-19 pandemic. I spent about a week in Tokyo, and my Japanese skills had once again improved, so I really enjoyed it. However, I had always dreamed of staying in Japan for a longer period, and this exchange at Aoyama Gakuin University (AGU) finally gave me that chance. 10 weeks in, and I am having the best time of my life.
My reasons for coming to Japan long-term were two-fold. First, I think that by living in a country, I can get a better understanding of how that society works and how people think and act in different situations. That has been my experience with Italy, where I have spent five years—first studying Italian, then in my current master's program at the University of Bologna. It pains me to see many people view Italy as no more than a "holiday country." Similarly, through a western lens, Japan can often be simplified as a mysterious tourist attraction. Spending a few weeks here was enough to get over the initial shock and acclimation, and now it continues to get more and more interesting living in Japan.
My second reason was to improve my Japanese. Finding native Japanese speakers to talk to in Europe is challenging, and from my experience, immersing myself in the country is the best way to learn a language. That's how I learned Italian. Acquiring knowledge of different languages opens all kinds of doors and opportunities, so I am confident the same thing is happening for me with Japanese as well. With the Japanese classes I am taking now at AGU, I feel my skills steadily improving. I look around, and everything is starting to make more and more sense, so I can feel proud of my progress.
At my home university, I developed a deep interest in international politics, diplomacy, and peacekeeping through studying Diplomatic Science and International Affairs. In fact, my ultimate dream is to one day become the German Ambassador to Japan. It is highly competitive and difficult to enter the Foreign Service in Germany, but I would love to be sent to different places to represent my country and take on various responsibilities. Alternatively, I would love to work for an international organization like the United Nations. Wherever I end up, I think that my experience here in Japan will prove useful in tackling the challenges ahead.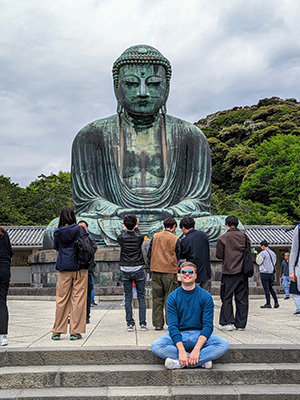 The Kamakura Daibutsu. Its serene seated figure exudes an overwhelming presence. It has been outdoors for over 500 years, enduring rain, wind, and natural disasters.
AGU has allowed me to explore Tokyo and my interests in diplomacy
Making the most of my precious time in Japan
On my days off, I love traveling within and outside of Tokyo, making use of the best public transportation in the world. It is easy to take day trips to all sorts of places. I went to Lake Kawaguchi for the best view of Mount Fuji, as well as to Kanagawa and Saitama Prefectures. Additionally, I actually visited Rikuzentakata and Sendai, which were areas affected by the Great Tohoku Earthquake and Tsunami.
Over Golden Week, I flew out with friends to visit Okinawa, and the blue sea was clearer than any I had seen in my life. We did a full day of snorkeling at the coral reefs and saw sea turtles and pufferfish.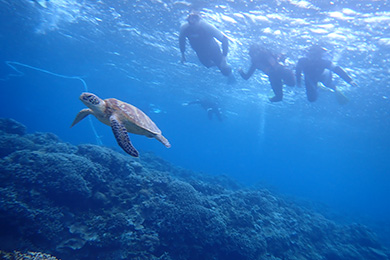 The sea turtles in Okinawa are rare, and whether you can encounter them or not depends greatly on luck and timing. Coming face to face with one during snorkeling was a truly moving experience.
Japan has such a massive variety when it comes to the different islands, terrain, and cityscapes. Beyond that, it is also rich in variety of cultural traditions, industries, and things to do. There are so many big contrasts in this country, and that makes it an incredible place to stay. A great word in Japanese that encapsulates this sense of variety is jidohanbaiki, which means vending machine. Vending machines are everywhere in Japan, and while they usually sell refreshing drinks, some also sell all kinds of interesting or unusual things. I saw machines selling only Sriracha chili sauce bottles, or t-shirts in a can, or 2000-yen premium puddings. It is sometimes so absurd what you can find in these machines, but I think that it reflects the unpredictable Japanese sense of humor.
Japan also has a reputation for having many societal rules, and this is part of what makes it so orderly. Things like not talking loudly on trains, letting people get off at each stop when it is crowded, these are wonderful things to see. Some rules I find a bit difficult to understand, such as when and where to take off my shoes, but in Germany, we have a lot of rules as well, so I have adapted quickly. Now, I feel comfortable in Japan, and the opportunities presented by Tokyo are magical. You could spend your whole life here and still not see everything. If I have a chance to come work here in the future, as a diplomat or otherwise, I would love to.
Mario's Class Schedule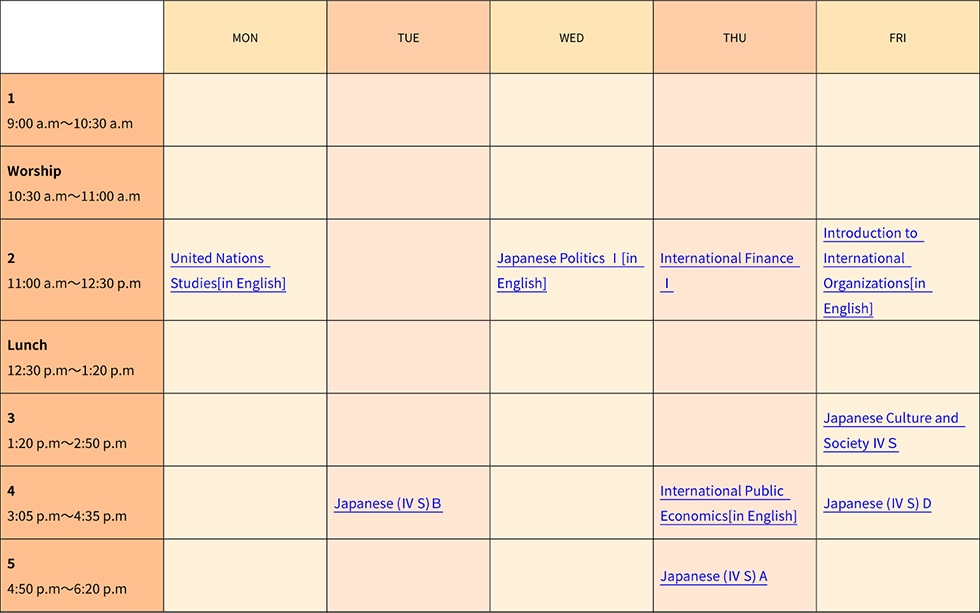 Aoyama Gakuin International Center
The role of the International Center (IC) at Aoyama Gakuin University is to provide educational support related to the internationalization of the university as well as to support the development of students to become global citizens. The main work of the IC consists of assisting both students going overseas and international students from overseas partner schools and approved institutions; as well as planning and operating intensive language training along with other programs and special events. The worldwide trend of globalization affects not only corporate activities and international relations, but should also impact the structure of university education and curricular content. With that in mind, the IC strives to strengthen and expand collaboration between overseas universities and Aoyama Gakuin University while respecting the diverse cultures and traditions of each country as well as the customs and values of our students.