Conducting Global Activities to Contribute to Improving International Relationships and Further Global Development
Posted on September 22 , 2022
Senior student
Department of International Politics
School of International Politics, Economics and Communication
HEO NAYOON
Gwacheon Foreign Language High School, Gwacheon, South Korea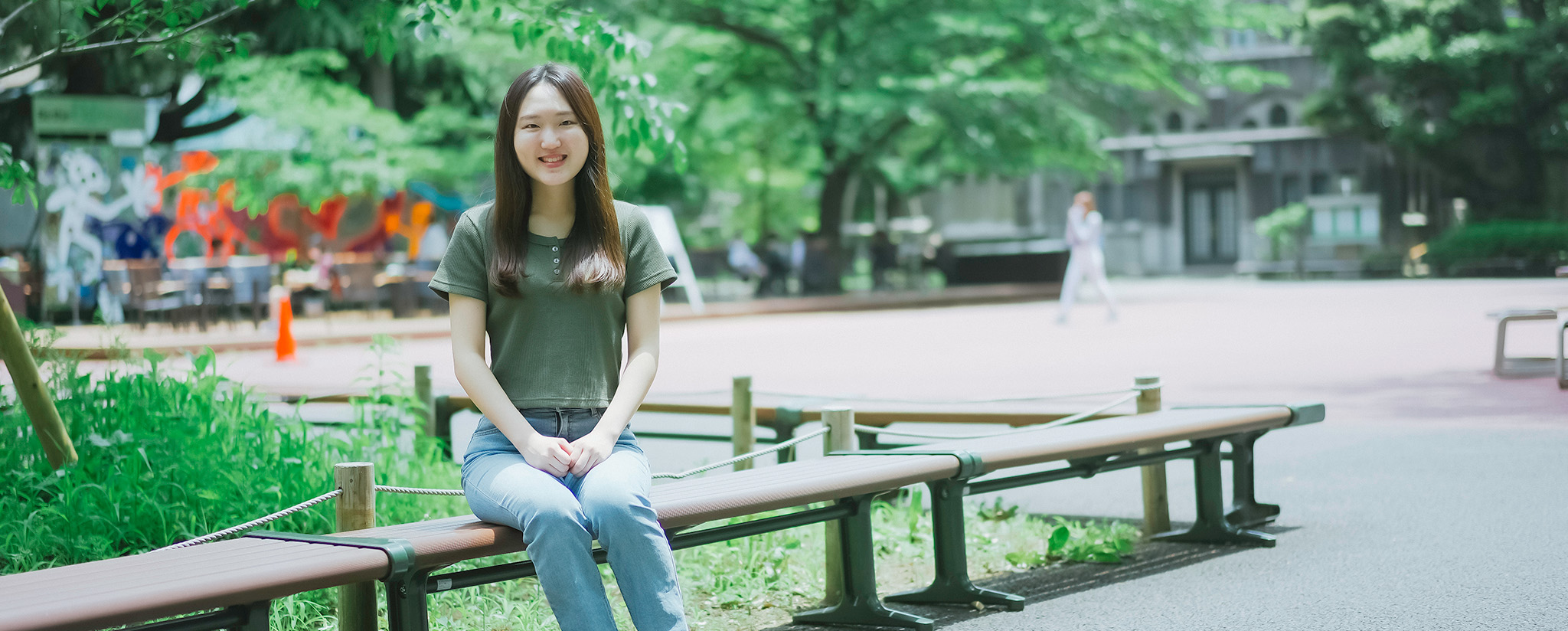 OVERTURE
There is no shortage of countries around the world that are experiencing some kind of tensions with other countries, and it is undeniable that these state-level issues unfortunately deprive individuals of opportunities to deepen mutual understanding across national borders. Wanting to help improve international relationships so that people around the world can engage in more friendly exchanges, Ms. Heo Nayoon decided to study at Aoyama Gakuin University, for which she came to Japan from South Korea. In our interview, Ms. HEO shared her thoughts with us as follows.
Deciding to specialize in the study of international relations and learn foreign languages at an overseas university
I participated in a Japan-South Korea junior and senior high school student exchange program when I was in my third year at junior high school, and this experience led me to develop a greater interest in the relationships between nations. Wanting to specialize in the study of international relations and international organizations, I first decided to attend an overseas university and then chose to enroll in the Course of Global Governance at Aoyama Gakuin University's Department of International Politics.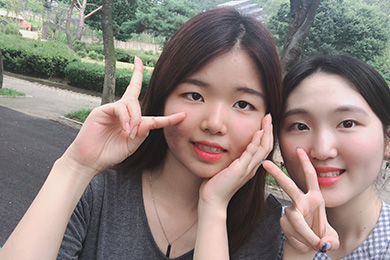 I picked Aoyama Gakuin University because it has a good reputation for its language education, including for English. At the Department of International Politics, international students study the Japanese language as a second foreign language and, just like Japanese students, study English as a first foreign language. In Japan, international students generally tend to study Japanese as a major foreign language, but the Department of International Politics provides a curriculum in which I can study English intensively, which is very appealing to me. In my first and second years at the University, I studied English three to four times a week as a compulsory subject. Making use of what I had learned in my English classes, I attended the classes given by Professor EVANOFF, Richard John ("Introduction to International Communication Ⅰ[inEnglish]" and "Introduction to International Communication Ⅱ[inEnglish]", which left a lasting impression on me. In his classes, Professor Evanoff always asked us to give our own opinions from the perspectives of different countries and he often said to me, "What do you think of this from the perspective of South Korea?" I therefore got into the habit of summarizing in English what I thought about the theme for the next class ahead of time.

In the classes that I attended before starting the seminars, I feel like I was given many opportunities to think about international politics with a focus on the EU. In particular, I found "European Politics Ⅱ[in English]" quite interesting. In it, I learned about the impact of the EU in terms of international politics. The world economy was hit hard by COVID-19, but the EU made a large-scale fiscal spending plan to help its member countries come back from the pandemic and launched Next Generation EU as an economic recovery package. The EU, which is a group of countries with different histories and cultures, is able to formulate and implement policies as a single entity. By attending this class, I was able to learn why the EU can act as a unified team and study the driving forces behind the concerted actions of its members by looking into its founding history and present situation. The class was quite meaningful to me.
Giving insights into the diplomatic policy involving pandas
After starting my junior year, I began to attend the seminars given by Professor LIM, Jaehwan to understand the history, national characteristics and political system of China and acquire the knowledge and methodology to develop a future outlook. In the seminars I usually talk not only with Japanese students but also with Chinese students. Through such discussions I can broaden my view on international politics. Presently, I am conducting research into "panda diplomacy," which I am very interested in. The Chinese government sends pandas to other countries as a diplomatic policy, which is what is behind the beautiful pandas that we can see in local zoos. China rents out pandas as one of its diplomatic policies and it is one that has proved to be quite effective, and is far softer than its military and economic diplomacy. I would like to offer some insights into the merits of panda diplomacy in my graduation thesis.
The classes given at the Department provide students with lots of opportunities to talk in Japanese and English. For example, in the "Introductory SeminarⅠ" classes, which I attended in my first year at the University, students are divided into pro and con teams according to their own views to debate a historical incident or an international issue that they have learned about in the class. I was not good at asserting my opinions or even expressing them in front of a lot of people and I initially felt like I was not suited for these kinds of discussions. However, as a result of continuing to participate in discussions over three years at the University, I think I have been able to substantially improve my discussion skills. In the seminars that I attended as a junior, we discussed things in a smaller group, and so the experiences I had in my first and second years at the University really came in handy. Through discussions I was reminded again that different people take different approaches to the same issue, which has helped broaden my own view.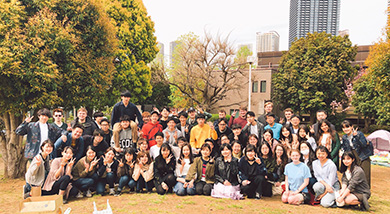 Wanting to work in South Korea to contribute to the solution of problems between nations
My dream is to find a job in which I can contribute to reducing conflicts between nations and promote mutual understanding. Specifically, I aim to work at an international cooperation organization or an NGO in South Korea and to devote myself to the further development of the world and improvement of international relations. I think that better relationships between countries cannot be built through political diplomacy alone, and it is important to visit the country in person and conduct activities that put you in contact with local people. By capitalizing on the knowledge that I have gained at the University, I would like to be a person who can identify issues that people are facing and hit upon and implement solutions for them. I am determined to conduct global activities for the solution of problems that exist between nations.
The number of years enrolled, titles and activity details are as of the time the interviews were conducted (in academic year 2021).
Note: The links included in the text are for the subjects offered by the University for academic year2022.
Department Enrolled
Department of International
Politics
School of International Politics, Economics and Communication
The Department of International Politics emphasizes international politics and provides a systematic curriculum to enable studies on the management of international society and the political diplomacy of various countries. By studying international political theory, security, the history of political diplomacy, area studies and international law, students acquire the ability to comprehensively analyze the mechanisms of international society.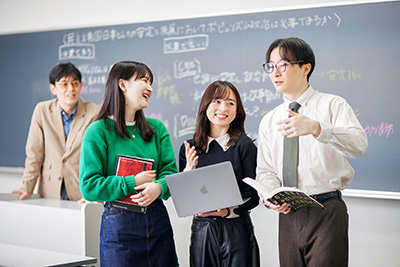 Aoyama Gakuin International Center
The role of the International Center (IC) at Aoyama Gakuin University is to provide educational support related to the internationalization of the university as well as to support the development of students to become global citizens. The main work of the IC consists of assisting both students going overseas and international students from overseas partner schools and approved institutions; as well as planning and operating intensive language training along with other programs and special events. The worldwide trend of globalization affects not only corporate activities and international relations, but should also impact the structure of university education and curricular content. With that in mind, the IC strives to strengthen and expand collaboration between overseas universities and Aoyama Gakuin University while respecting the diverse cultures and traditions of each country as well as the customs and values of our students.