Uncovering Avenues for Exploration and Expression in Tokyo
Posted on July 25 , 2023
School of International Politics, Economics and Communication
(Exchange student from the University of Vermont, United States.)
Veronica Ruth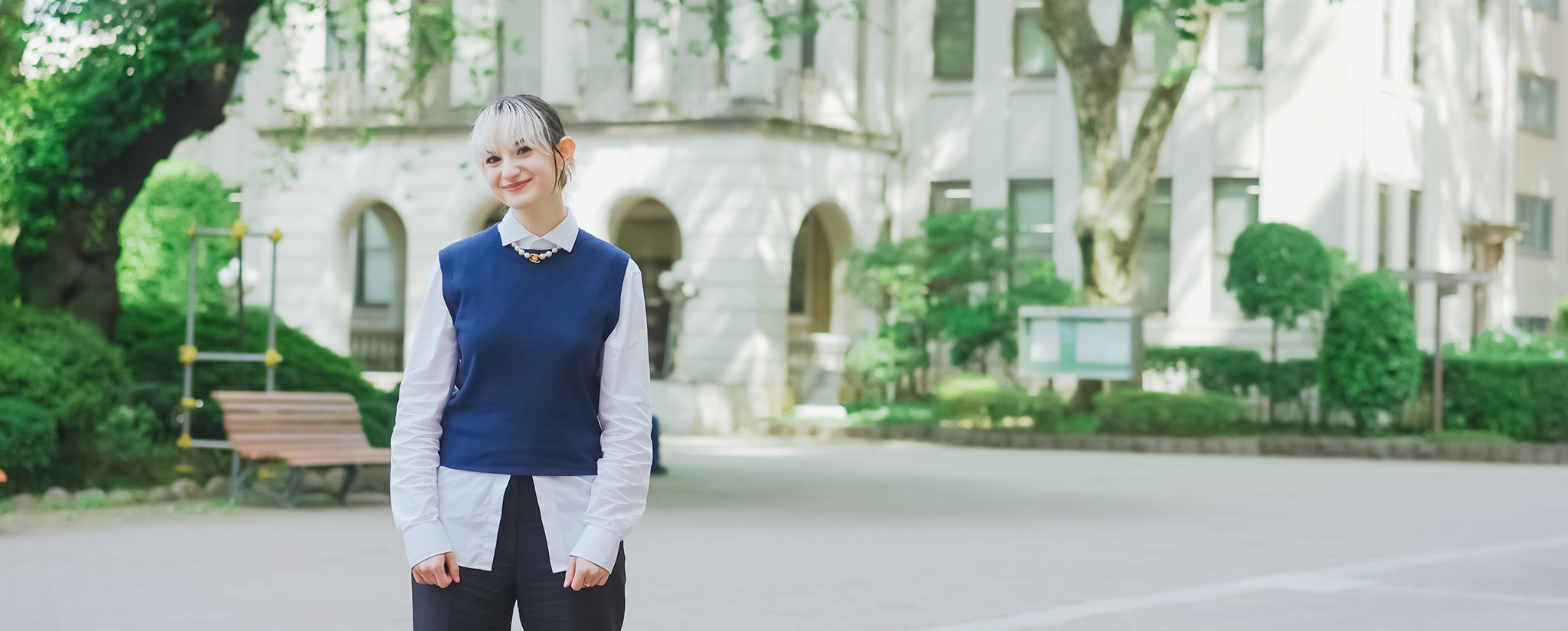 OVERTURE
Being in Japan for the first time, Veronica Ruth has been captivated by the vibrant and open atmosphere of Tokyo. Aoyama Gakuin University is located in Shibuya, a city with something for everyone, and this setting offers students unparalleled access to explore their passions and find their unique voice. Be it in the classrooms at AGU, or the fashion streets of Harajuku, Veronica has enjoyed her time in Shibuya and has found that it offers her a unique sense of belonging that can be hard to find elsewhere.
Fostering a multifaceted fondness for Japanese culture
I have felt drawn to a variety of aspects of Japan over the years. First, the cuisine:I grew up in Austin, Texas, a city with a great food culture. My family loves cooking, so I grew up eating all kinds of cuisine, including Japanese food. Second, the fashion: Japanese fashion and styling are incredibly unique. Third, the traditional aspects of Japanese culture and society: a close high school friend of mine is Japanese, so we often discuss about topics relating to Japan and speak some Japanese together.
One area of Japanese traditional culture I have long been interested in is tea. Growing up, my father would often buy imported Chinese and Japanese teas for us to try at home. I love the ceremonial aspect of the Japanese tea ceremony, and the technique required to create the proper flavor of matcha. Another traditional area I have been exploring is Shinto. I learned about it in my Japanese classes, and I really resonate with the concept of animism. My favorite word in Japanese is yokai, which means spirit or apparition. I love hearing stories about ghosts, demons, and other deep Japanese lore.
As for Japanese media, my introduction came from watching STUDIO GHIBLI films as a child, and then I got really into an anime called SOUL EATER. This series piqued my curiosity in Japanese art, dark storylines, and the Japanese language. While most anime and manga are not a realistic representation of actual life or people in Japan, I have found that some series have given me insight into aspects of Japanese culture.
In terms of practical information about Japan and information to prepare for coming here, YouTube has been a great resource. Channels discussing life in Japan gave me helpful insights, and videos of street interviews in Japan could inform me about what to expect from life here. The interviewer asks foreigners living in Japan about their experiences here, or asks Japanese people about their views on a variety of topics.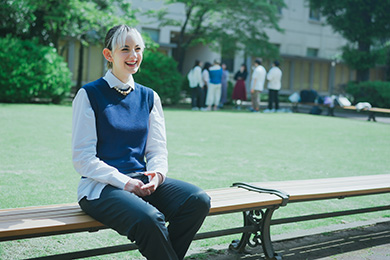 How a love for languages led to learning Japanese
I love learning languages. I studied Spanish for seven years, I self-studied Korean for some time, and when the opportunity arose to study Japanese in high school, I decided to try it out. I already had some exposure to the culture and language, so it was not so difficult. I had a great time building relationships with my classmates and learning about Japan with them—and I really liked my teacher. It was a diverse group of students in the class, so I had chances to use my Spanish and Korean when talking to my classmates; it was a blast!
After those first positive experiences with the language, I decided to stick with it, and am now on my fifth year of Japanese study. I have two majors back at my home university: neuroscience and Japanese. Besides learning Japanese in the classroom, I use tools like WaniKani to study kanji, watch subtitled Japanese anime and dramas, and listen to Japanese music.
At Aoyama Gakuin University (AGU), I have been really enjoying my Japanese language courses. We get to learn about all kinds of applications of the language and different concepts every week in a thorough manner. I have been able to deeply understand the new Japanese I am learning. I enjoy how the courses are conducted, and how I can use new vocabulary and phrases in my daily life in Tokyo.
Exploring my passions in Japan's fashion capital
Over the past few years, I have been delving deeper into the world of fashion. The structural aspects, varied silhouettes, and use of textures in Japanese fashion are very appealing to me. Looking around outside, many Japanese people select individual pieces that I would not think to choose, but as an ensemble their outfits come together beautifully. This has really expanded the way that I think about matching an outfit to a body shape. My initial interest in fashion stemmed from K-Pop and men's fashion. But once I saw YouTube videos about Japanese fashion, I was hooked.
There seems to be a prioritization of neatness and style, especially in Tokyo. Many Japanese people maintain a silhouette or elegant style of dress that works for them, and they are willing to invest in good-quality clothes that will stand the test of time. I really relate with that perspective, and I encourage those coming to study in Japan to bring some nice clothes. I revised my own wardrobe quite a bit before coming here, and I am glad I did. At any rate, walking around Tokyo, I can't help but notice the amazing hairstyles and outfits that people have.
Part of the reason I was drawn to AGU was because of its great reputation, both as a school and academically, but also for its fashionable students! The location is also hard to beat, being right in Shibuya . I enjoy peace and quiet, having grown up in a mid-sized city and with my home university being in a smaller town, but Tokyo is a beautiful metropolis with many smaller streets and neighborhoods to explore. It doesn't feel like a concrete jungle, and you do not have to be surrounded by people all the time. I love exploring new areas of Tokyo on my days off, and I enjoy bringing my camera with me to document my travels, be it for photographing the hanami cherry blossom viewing parties or documenting my trip to Kyoto over Golden Week.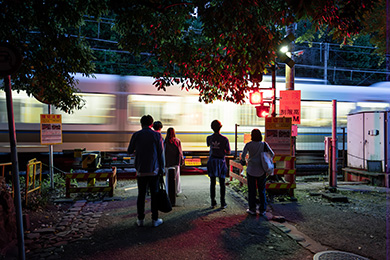 In the bamboo grove of Arashiyama, at a railroad crossing. The enchanting atmosphere at dusk was like a scene straight out of a Studio Ghibli movie.
The AGU campus here, with all its green spaces, is also gorgeous. When I am not in class, I like to grab a coffee from the AGU Book Café and do schoolwork in Building 17 or in the green spaces outside on a sunny day. The atmosphere on campus is conducive to productivity, so it is easy to get things done when you're here. Plus, the food in the cafeterias is great!
Unlocking new experiences at AGU and growing from challenges
The most fun I have had since coming to Japan has definitely been spending time with my friends from AGU and from my dormitory. Since Tokyo has so much to offer, on days off we can go enjoy karaoke and izakaya (Japanese traditional bars) around the city or try any cuisine I can think of. Even on a given weekday, if I finish my classes early, I like to walk towards Harajuku or Omotesando Hills with my friends or take a spontaneous trip to explore somewhere new in Tokyo.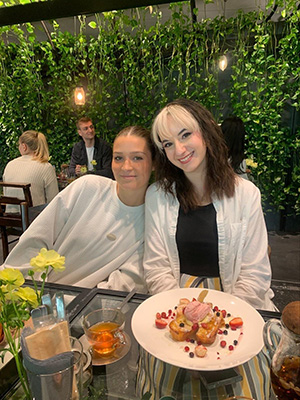 Taken with my friend at "Aoyama Flower Market GREEN HOUSE" near AGU. It is a trendy neighborhood in Tokyo that sets the fashion trends and is popular among foreign visitors.
Academically speaking, AGU has given me a chance to explore new topics that I would not have studied back at my home university. My favorite course has been my Preceptorial Seminar on Asian Politics. It is a new area of study for me, but I have been able to go deep into how various Asian countries play different roles on the regional and global political stage. Each week, students present information from the textbook, and the professor adds information for a more nuanced and deeper understanding of the topic. Then, there is an opportunity to discuss in small groups.
My presentation was on India, its rise in recent years and the issues it is facing to expand its economy. The presentation also touched on the role of China in that context, and it was fascinating to learn about the Japanese perspective on these topics. Without this course at AGU, I may have never realized that I am interested in international Asian politics. Everyone is engaged in group discussions, so it has been a very intellectually stimulating experience. AGU's wide variety of courses offered in English makes it easy for exchange students to find something they are interested in, or explore something brand new to them.
Of course, coming to a new country and school can be stressful, so I was concerned about what daily life would be like here. However, everyone I have met at AGU has been very friendly and easy to talk to. The tutor system for international students has also been a big help to me. Each exchange student is paired with a Japanese student tutor. They are there to support you in a variety of ways,like when going to get a commuter pass set up, and in other situations that may be difficult for someone who is not Japanese. The staff at the International Center have also been a great resource, for instance, when they helped me get an appointment at the hospital.
Finding how Japan can fit into potential plans on the horizon
Before I came to Japan, I did a lot of research and learned as much as I could, but I tried to keep an open mind and not assume too much. There are social hierarchies that may make it hard to deviate from the norm at some levels in Japan, but I have basically found that people are just people, whether it is back in America or here in Japan. People here always respect your personal space and if you don't look Japanese, it's usually just curiosity if you catch someone looking at you.
In addition, if you try to speak to people in Japanese, it feels like people truly appreciate your effort to speak in their native tongue. Here, people don't seem judgmental if you are not great at Japanese, and as long as you can communicate somehow, that is what matters. I urge future exchange students to study Japanese as much as they can, though! In Tokyo you will be fine regardless of your Japanese ability, but having the skills from the start can unlock a lot of doors and enrich your experience here.
There have been some instances where I was really glad I had studied Japanese. For example, when my family visited, I helped them order food at a restaurant with no English menu. Another time, I needed to get my camera fixed, so being able to ask clarifying questions in Japanese was crucial. My tutor came along with me too, which was helpful. Part of the reason I came to Japan was to give myself a good challenge linguistically, and studying at AGU has allowed me to level up my Japanese ability significantly.
Another reason for coming here was to see if Japan would be a good fit for me as a place to live and work in the future. I can happily say that I would like to pursue that path. I have really loved my time here. The things that I care about and am sometimes judged for in the U.S. are actually more accepted here in Japan, and I feel I can be a version of myself that I like. On top of that, the accessibility of delicious food and inevitability of walking a lot every day means that I am feeling very healthy, too.
In the long term, my goal is to become a doctor, so after I complete my undergraduate studies I plan to go to medical school in the U.S. Learning languages is like expanding my toolkit to help in various situations, so I am eager to see what opportunities open up in the future. If I can work as a doctor or conduct neuroscience research here in Japan, I would be more than happy to come back for a longer period.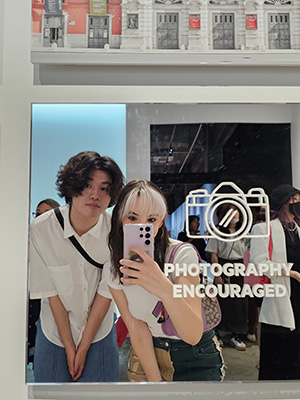 Tennozu in the waterfront district is a major hub for art. During the extended holiday in May, I visited an exhibition called "Accidentally Wes Anderson (AWA)" at a gallery cafe.
Veronica's Class Schedule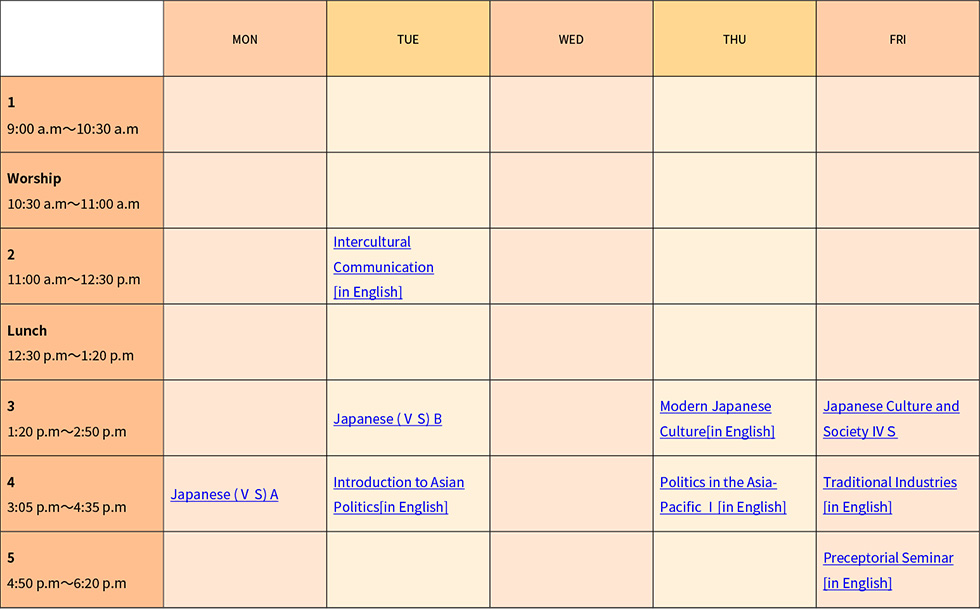 Aoyama Gakuin International Center
The role of the International Center (IC) at Aoyama Gakuin University is to provide educational support related to the internationalization of the university as well as to support the development of students to become global citizens. The main work of the IC consists of assisting both students going overseas and international students from overseas partner schools and approved institutions; as well as planning and operating intensive language training along with other programs and special events. The worldwide trend of globalization affects not only corporate activities and international relations, but should also impact the structure of university education and curricular content. With that in mind, the IC strives to strengthen and expand collaboration between overseas universities and Aoyama Gakuin University while respecting the diverse cultures and traditions of each country as well as the customs and values of our students.