Japanese Culture in our Eyes
Posted on February 20, 2020
School of Business (Exchange Student)
BEST, Tyler Leo
Junior student, Department of Law, Faculty of Law
BAEK HYEIN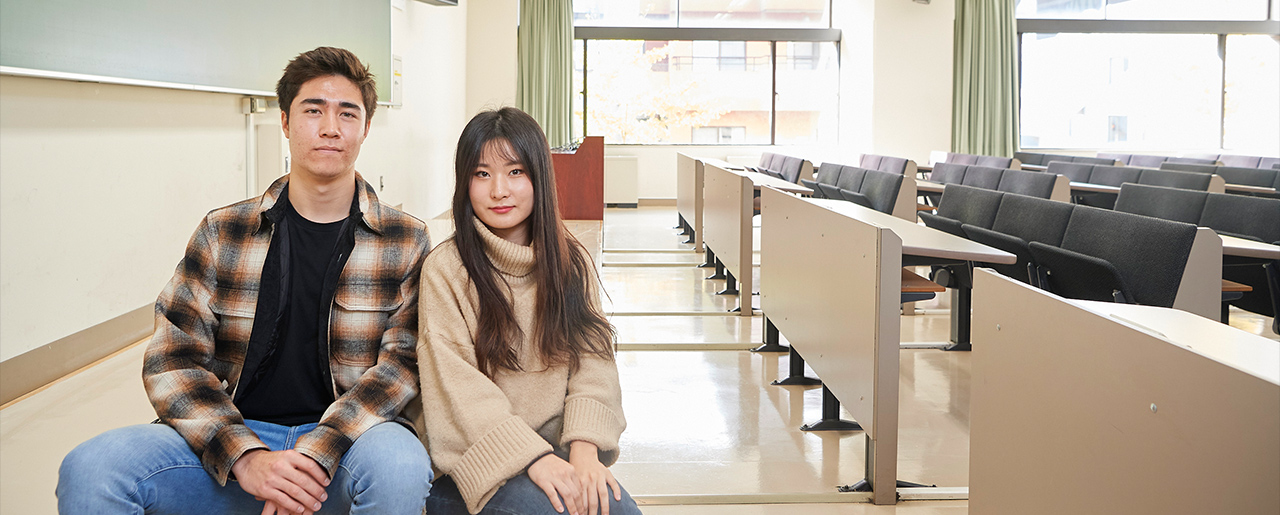 OVERVIEW
Aoyama Gakuin University (AGU) is a crossroads where numerous students come together, some going on to fly out to other countries to continue their studies while others gather from around the world as international students. Here are two students with global mindsets who have assumed the challenge of taking the plunge into a foreign culture.
More than 450 international students are enrolled in AGU. Many of them are eager to learn about Japanese culture regardless of what their majors are. Japanology is a course that offers such students an opportunity to satisfy their curiosity. Best,Tyler Leo from the United States and BAEK HYEIN from South Korea are two students enrolled in the course. Based on what they learned through the course, they kindly shared their thoughts and fascination with Japanese culture, as well as what they believed the benefits of being an international student were.
Astonished by the Long-inherited Culture
I'm Best, Tyler Leo from the United States. I have been studying at AGU as an exchange student at the School of Business since September 2019. I grew up in the States, but my mother is Japanese, so I have visited Japan many times since my childhood. Through my experience, I have always felt that Japan has a unique culture that differs from that of the US, as exemplified by the people's diligence and considerateness to others. I decided to come to Japan as a student because I wanted to actually live in this country and learn about the mindset of Japanese people.
I was eager to take this opportunity to learn about all the different fields of Japanese culture, but there were limits to what I could do by myself owing to financial constraints and complex procedures. Japanology is a wonderful course in this regard, because it provides me with opportunities to learn about Japanese culture in class. My plan is to gain an overall picture of Japanese culture through class, and then, further delve into areas that particularly interest me.
In today's class, I learned about nihon buyo, or Japanese classical dance. I was deeply impressed by how a profound story was depicted through a dance by using a single folding fan. In class, the instructor explained to us the meaning of each movement in the dance. If I had just watched the dance without any prior knowledge, I may not have been able to appreciate the profundity of the dance.
I was also impressed by the instructor's creativeness. When we were learning about how the fan was used to symbolize an object or idea, the instructor, asked by students to express a "kangaroo" and "hunting" with the fan, moved the fan dexterously to illustrate the seemingly impossible items requested, as if he had known all along how they could be expressed. His imagination was very unique, not something everyone could emulate.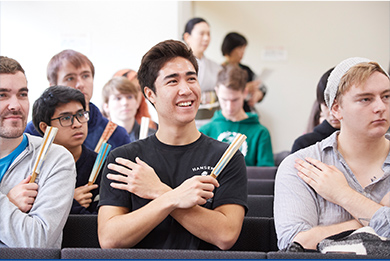 Ikebana flower arrangement was another area of culture that intrigued me. I had no knowledge about or interest in ikebana, but as three instructors arranged some flowers in their own ways, I began to realize that the three arrangements were slightly different from one another, each with a unique style distinctive to each instructor. I also arranged some flowers myself, which, to my surprise, had a relaxing effect on me.
Thanks to the guidance provided by the professionals of nihon buyo and ikebana, we were able to gain a tangible feel of the cultural art and understand their genuine essence. I am grateful to Japanology for providing me with such a rare and valuable experience.
The fascinating thing about Japanese culture is the fact that the culture of ancient times has been passed down to today. With the United States being a young country, its "old" culture dates back only 200 years, and is therefore not much different from today's culture. In Japan, some elements of culture were born more than a millennium ago, when people's mindsets and lifestyles were totally different from today. It is astonishing to think that such ancient culture has been passed down to today. For example, in Japan there are certain foods of the season, which are said to energize people when consumed. Such a food tradition has been passed down from ancient times. Ozumo, or professional sumo wrestling, is also an ancient tradition. I believe that the existence of such a long-inherited culture testifies to how much the people of the old days are appreciated by modern-day Japanese people.
I will be in Japan as a student until August 2020, so I would like to make the best use of my stay to experience a wide range of things. At the Olympics and Paralympics to be held in Tokyo in 2020, I will be attending athletes for video shooting sessions as a part-time job. It had been my wish to be involved in the Tokyo Olympics/Paralympics while in Japan, so I am looking forward very much to the experience. I haven't specifically decided what to do with my future, but broadly speaking, I hope to leverage my experience as an exchange student and my Japanese language skills to engage in a job that allows me to communicate with both U.S. and Japanese people and serve as a bridge between the two countries.
When you are a student from abroad, you need to take proactive action in every aspect of your life. Although being proactive makes your life very busy, you will get to know all kinds of people. I was able to make lots of Japanese friends this way. When I meet new people and tell them that I am an exchange student at AGU, I often receive positive feedback because most people are familiar with the university, which is very helpful in making friends.
I'd also like to add that in the United States, people have a high interest in exchange students and are eager to talk to them. Many Americans are fond of Japan, so if you study in the US, you will be able to make lots of friends there.
Fascinated by freewheeling expression
I am BAEK HYEIN from South Korea, a third-year student at AGU's Faculty of Law. I had been studying graphic design in South Korea, but became interested in pursuing an alternative area. I chose to study in Japan because I had been taking private Japanese lessons. Rather than aiming to do something specific in Japan, I simply wanted to try living in this country, for a year to start with, to see if I could get along happily. It took me some time to get used to the food culture here, but now I have no problem at all with Japanese food.
I enrolled in AGU after studying at a Japanese language school. My life in Japan is now in its fifth year. I am now thoroughly used to living in Tokyo, so much so that I have almost lost the feeling of living in a foreign country. Having learned Japanese and studied at a Japanese university, I am hoping to find a job in Japan, too.
I enrolled in Japanology because some friends who had taken the course recommended it to me. From the photos of the class shown to me, the course seemed free-wheeling and fun. The course being basically for international students, we feel privileged to be able to attend such intriguing classes.
In Japanology, a wide range of Japanese culture is spotlighted, with experts from the respective fields invited to impart their knowledge. Today, we learned about nihon buyo, or Japanese classical dance. Seeing the actual dance, I was fascinated by the free and natural flow of the movements. Despite wearing a kimono, which must be rather restrictive, the dancer's movements didn't seem to be restricted by anything, which was amazing. There must be ingenious tips to produce the natural flow in the movements.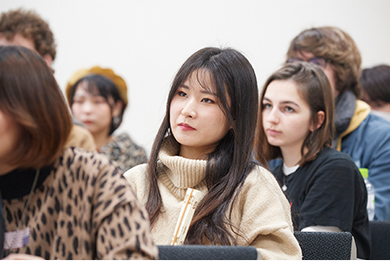 The class about Hachioji Kuruma Ningyo puppetry was also impressive. I was amazed at how the looks of the puppets changed and their joints moved flexibly, conveying diverse expressions. It must be highly challenging to acquire the skill to freely manipulate such large puppets. The class where we watched the performance was well-lit, so we could see the strings attached to the puppets. A performance on a real stage must be even more compelling.
The amazing aspect about Japanese culture is that there are no manuals. In many cases, pupils learn from their teachers by observing and imitating the way they breathe, move and speak. In contrast, with Western classical music, for example, where composers write music in the form of scores, which enables everyone to play the music in the same way as their predecessors. In many areas of Japanese cultural art, expressions differ depending on how they are taught and learned, and the forms of expressions seem to evolve over time. I'm sure there are similar cases in the cultures of other countries, but I believe this is a characteristic widely shared across Japanese culture.
I am now looking forward to learning shodo, or Japanese calligraphy. In South Korea, we rarely use Chinese characters, and the culture of brush writing is fading away. When I was in elementary school, I took drawing classes, where I once experienced sumi-e, or ink wash painting. As a design student at college, I learned Western calligraphy, the art of writing European letters with a distinctly expressive touch. I used to practice with Japanese brush pens then. Having experienced these related fields, I have always wanted to someday learn shodo, the art of expressing Japanese letters beautifully, so I can't wait to attend the class. If I have the chance, I would also like to find a shodo class outside AGU.
Looking back at my days in Japan, I feel I owe it to AGU that I was able to settle comfortably in this country. If I had been enrolled in another university, I may have been placed in English-taught classes for international students only. At AGU, we are put into regular classes taught in Japanese, and are evaluated in the same way as our Japanese peers. Not being given special treatment helped me get used to my life in Japan.
Through my experience as a student in a foreign country, I realized that remaining in the same environment over a long time blinds you to many things. When you step into another world, you begin to see things you wouldn't see otherwise, which broadens your horizons. Being fluent in both Korean and Japanese, I occasionally notice that the same piece of information is covered differently by the mass media of Japan and South Korea. In this modern age overflowing with information, I believe that studying abroad helps you identify accurate information. I strongly recommend studying abroad if you have the chance to do so.
About this class
Japanology
-Nihon Buyo (Japanese dance)-
Lecture.01
A lecture on nihon buyo, or traditional Japanese dance, was given by Rankoh Fujima, a nihon buyo dancer. Students learned that a folding fan, a characteristic prop in nihon buyo, is used to represent all kinds of objects in dance performances, which essentially calls for the imagination of the audience.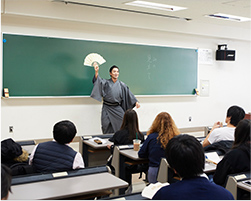 Lecture.02
Folding fans used in nihon buyo were handed out to all the students, who were eager to touch the prop for the first time. The lecturer explained that a fan is held together at the kaname, or the structural pivot, which allows it to open and close, and hence, the word kaname means "the most important part" in Japanese.
Lecture.03
Each of the students from around the world were asked to request something they wanted Mr. Fujima to represent with a fan. A student from Australia requested a kangaroo, and Mr. Fujima depicted a baby kangaroo in a pouch, which evoked exclamations of admiration from the students.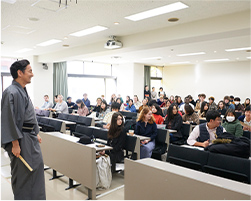 Lecture.04
To provide hands-on experience, Mr. Fujima taught the students to dance the role of a female in a dance named Miyakodori by first demonstrating the dance and then guiding the students to follow after him. Through the lecture and hands-on work, students learned that each of the subtle moves had a profound meaning.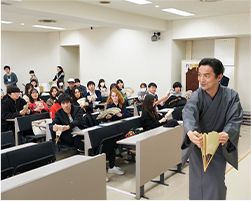 Japanology
On Aoyama Campus, Japanology is offered as a course for international students to learn about Japan. In this course, students are given demonstrations and hands-on experience of major traditional Japanese cultural art including flower arrangement, Japanese calligraphy and tea ceremony. Lecturers are primarily experts of each cultural field, with experience of visiting countries around the world. The course aims to enable international students to compare Japanese culture with the culture of their home country.
Classes can also be audited by Japanese students who aspire to become a cosmopolitan.
Japanology A and Japanology B are offered in the first and second semesters, respectively, on Aoyama Campus. On Sagamihara Campus, Traditional Art and Culture in Modern Japan/Topics in Japanese Culture Ⅲ is offered as one of the specialized courses at the School of Global Studies and Collaboration. Classes are given in English and also accept enrollment of students of other AGU schools. This popular course attracts many students.