Respective views of the same cities and universities
Posted on June 21, 2019
Senior student
Department of International Economics
School of International Politics, Economics and Communication
KODAMA Ai
×
Junior student
Department of Cultural and Creative Studies
School of Cultural and Creative Studies
LAUCIRICA, Violet George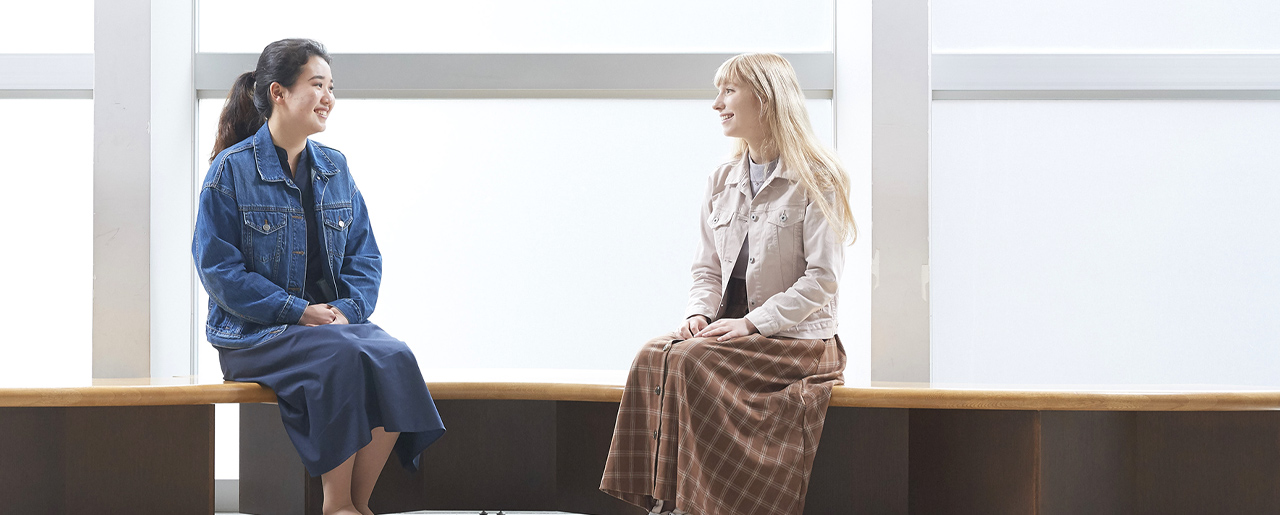 OVERVIEW
Aoyama Gakuin University(AGU) is a crossroads where numerous students come together, some going on to fly out to other countries to continue their studies while others gather from around the world as international students. Here are two students with global mindsets who have assumed the challenge of taking the plunge into a foreign culture.
AGU has a large selection of partner universities, among which is the University of Washington in Seattle, the United States. There are currently two students on Aoyama Campus, one Japanese and the other American, who have spent a part of their student life at the prestigious university. They are Ai Kodama, an AGU student who studied at the University of Washington, and Violet George Laucirica, a University of Washington student currently studying at AGU. How do they feel about living and learning in a culture that is foreign to them? Based on their experience, what capacity do they think is required of students in this global age? The two students who have experienced the same universities and cities shared their opinions in an open and frank discussion.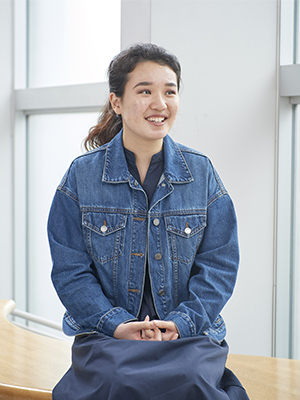 Profile of

 KODAMA Ai
AGU
→ University of Washington
Born in Kanagawa Prefecture. Having lived in Shanghai, China with her family since she was in the third grade at elementary school, she had hoped to serve as a bridge between China and Japan, which led her to enroll in AGU's School of International Politics, Economics and Communication. Participated in the Global Studies Program, which offers specialized courses taught in English, and studied at the University of Washington for nine months from September 2017. Currently also engages in part-time jobs leveraging her English skills, such as serving as an instructor for spoken English training.
Senior student
Department of International Economics
School of International Politics, Economics and Communication

KODAMA Ai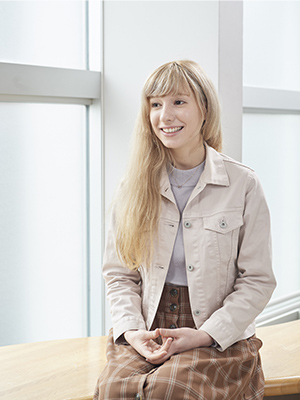 Profile of

 LAUCIRICA, Violet George
University of Washington
→ AGU
Born in Seattle, U.S.A. Having taken an interest in Japanese culture, enrolled in AGU in September 2018. Has joined an a cappella circle and an international exchange circle, interacting not only with Japanese students, but also students from all over the world. Aims to go on to a graduate school after graduating from UW to study Japanese language and sociolinguistics. Her nickname in Japan is "Sumire," which means violet in Japanese.
Junior student
Department of Cultural and Creative Studies
School of Cultural and Creative Studies

LAUCIRICA, Violet George
Seeking an environment for learning what they want
―What made you decide to study abroad and what was your objective?
Kodama:I had lived in Shanghai for seven years. In Shanghai, the IT service industry was highly developed as exemplified by DiDi, which is an app for hailing taxis online. This development has given birth to new jobs such as DiDi taxi drivers. Having witnessed how new industries provide people with new opportunities and options, I took an interest in tech businesses, which have the capacity to transform society.
The United States is home to leading tech businesses. Seattle, above all U.S. cities, is notable for being home to the Amazon.com, Inc. and Microsoft Corporation headquarters. The University of Washington is in Seattle, and is one of the best universities in the U.S., offering education of a high standard in the field of business. I decided to study at the university because I felt that it would be an ideal learning environment, where I could learn about business in English and, at the same time, feel close to cutting-edge tech businesses and services.
Violet:From a very young age, I played Japanese games and watched Japanese anime, so I had always wanted to live in Japan. When I was a second-year student at a local community college, I started studying Japanese. I was immediately taken by the profundity of the language. I wanted to study Japanese on a more technical level, so I transferred to the University of Washington. The university has many Japanese students and is renowned for its distinguished Japanese language education.
I had lived in Seattle all my life, but Ms. Kodama, you have lived in China! Sounds fun!
Kodama:I had always wanted to live in Seattle.
Violet:I was surprised by what Ms. Kodama said about Seattle, because her impression of Seattle is different from mine. I hadn't been aware that Seattle was home to large corporations and tech businesses.
―What kind of a city is Seattle to you?
Violet::When I was very young, Seattle was a city associated with music, especially alternative rock such as grunge, as exemplified by Nirvana. The city was not yet associated with IT.
Kodama:Is that so? I didn't know that. Seattle is roomy and exudes a feeling of freedom, which I love. The University of Washington had cafes and study spaces in every building, so students were able to choose where to study depending on how they felt. When the weather was nice, I liked to study on a seat at the terrace, which had an open atmosphere. Also, the campus was full of historical buildings, and it was relaxing just to look at them.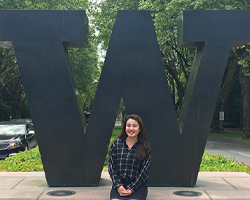 Violet:Like the Suzzallo Library?
Kodama:Exactly! It looks like a building in a Harry Potter movie.
Violet:Suzzallo has a beautiful appearance on the exterior, but its restrooms and other facilities are old, which is a drawback. Ms. Kodama, have you ever felt anything to be inconvenient in Seattle?
Kodama:When I wanted to go shopping or anywhere outside the university, I used the Link Light Rail, but the nearest station was located about 30 minutes away from my dorm. There was only one Link Light Rail route, so I would use the bus to get to places not located along the route, but initially I was a little frightened to get on the bus. As for attending classes, I didn't have any problem because the university was within walking distance from my dorm.
Violet:There definitely are areas that are unsafe, so you have to be careful when you take the bus. In Tokyo, it is convenient because you can go anywhere on the train. Aoyama Campus is at an especially convenient location.
Kodama:Although AGU is conveniently located, the trains are very crowded in the mornings and evenings, which is a little tough for me. Don't you hate riding on overcrowded trains?
Violet:No, I actually like it. I love the scramble crossing in Shibuya too. Packed trains are fun because they seem like a theme park attraction to me.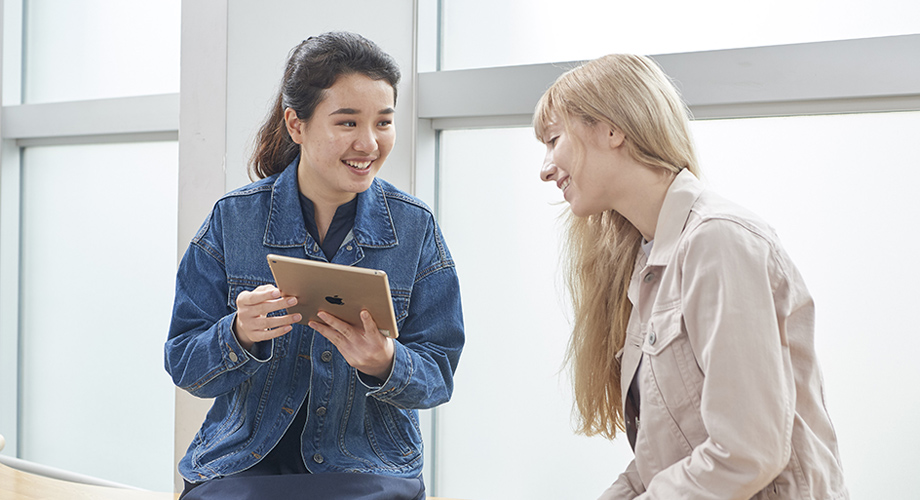 What we learned by removing ourselves from our usual environments
―Is there anything you two feel you have learned specifically because you studied in a foreign country?
Kodama:In the U.S., I felt the importance of taking action. At the University of Washington, the lectures in the field of business were advanced, and at first I was told that exchange students were not allowed to take business courses. I desperately wanted to take a business course, so I went in person to see the professor in charge of the course I wanted to enroll in, sent emails, and tried to convey my enthusiasm again and again. I negotiated with my student advisor practically every day, and at last I was given permission to take the course. It was genuinely brought home to me that if I wanted to do something, I had to take proactive action, or I would never get to do it. At UW, I met students from countries and regions around the world, and bonded with people of diverse backgrounds. In addition to the knowledge I gained through courses, the network of people I met during my student life abroad will continue to be an asset for me for the rest of my life.
In Seattle, I experienced ridesharing, Uber, Lyft, and shopping at Amazon Go, which is a convenience store that has no cash registers. Before you enter, you have your QR code read by a dedicated app, and you can just grab what you want and leave without having to pay any money at the store because the purchase will be automatically settled when you leave. It was a precious experience to try out the cutting-edge tech service.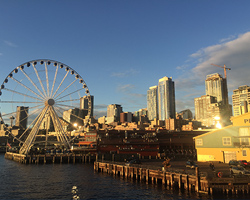 Violet:I have never been to an Amazon Go store. I'd like to go when I go back to Seattle.
There are two things I feel I can only learn by being in Japan. One of them is the honorific expressions. I had been speaking to my Japanese friends when I was in Seattle, but in a casual way, so I couldn't learn honorifics. In Japan, I have been able to acquire knowledge of honorifics and polite expressions through talking to the faculty at AGU and speaking to customers at the coffee shop where I work part time. I also focus on studying difficult words used in reports and classes. In the field of linguistics, English and Japanese are said to be the most different pair of languages, so for me, Japanese is difficult and complicated, but I love studying it. The other thing is the ability to organize things. I think Japanese people are outstanding at organizing things and paying attention to details. Schedule books, for example. I had never used a schedule book until I came to Japan, and I had always thought that paying attention to details was a waste of energy, but now I keep track of my schedule using a schedule book like my Japanese friends do, and I am hoping to become good at organizing things and information around me, like Japanese people are.
A Japanese friend of mine taught me how to write in my schedule book. She casually gives me cards and small gifts and contacts me after we go out together, which is really nice and I'm always touched. Being meticulously thoughtful is also a sweet Japanese custom. I would like to be thoughtful like my friend to make her happy.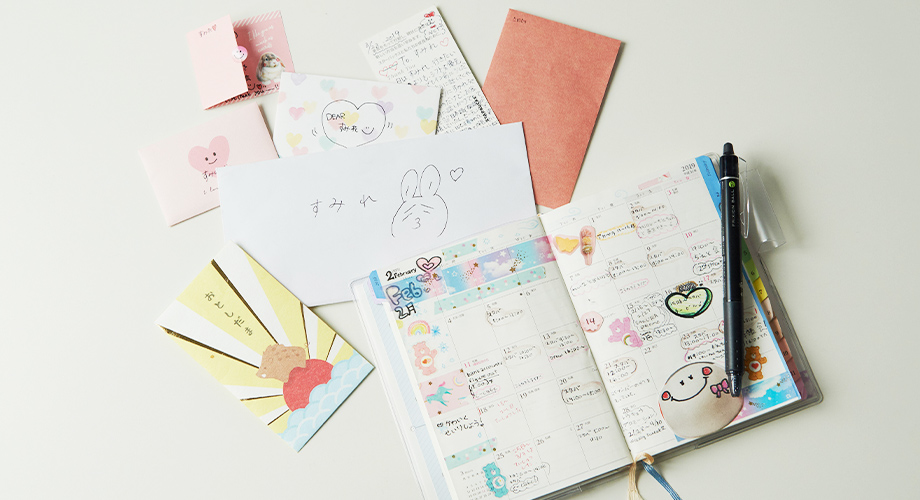 Not being given special treatment is tough but important
―Do you have anything you would like to ask each other?
Violet:Ms. Kodama, what did you feel was the most challenging thing when you were an exchange student?
Kodama:I'd say writing reports and engaging in groupwork were the most challenging. In groupwork, I was treated just like the other students, given exactly an equal share of the work for reports and presentations in terms of volume and quality. I was never given special treatment just because I was an exchange student. Because groups were assessed as a whole, if I didn't perform well, the grade given to each member of the group would drop, so an overwhelming responsibility was placed on my shoulders. When writing reports, I couldn't tell which quotable documents were highly reliable, so I had to start research from there before I could start writing the actual report. It was really tough.
Violet:Business major students at UW are known to be very competitive among themselves.
Kodama:They were highly conscientious students. Everyone had a strong ambition to be at the top of the class.
Violet:Yes, exactly! Conversely, there are fewer linguistic major students, so we are able to study at our own pace. The atmosphere is totally different.
Kodama:Violet, why did you choose to come to AGU? There are many partner universities of UW in Japan, aren't there?
Violet:I thought it would be nice to study at AGU because I would be able to live with Japanese students in an international dorm. Also, AGU offers me all courses in Japanese, which I thought was appealing because rather than taking courses especially tailored to exchange students, I wanted to be in the same classes as regular Japanese students.
UW certainly has quite a few partner universities in Japan, so I looked into each one of them. When I read reports written by exchange students in the past, I saw comments for other universities that read, "I was segregated from Japanese students in classes and everyday life. Not advisable for exchange students." At AGU, I'm always with Japanese students in all aspects of my student life, including in the dorm and classes. I think AGU offers the best learning environment for exchange students.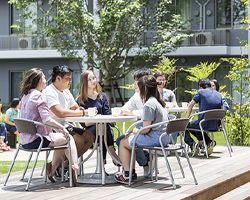 Kodama:Listening to your explanation, I can now see why you chose AGU. If you think about it, AGU really is a supportive environment for exchange students.
Violet:Whenever I have something I don't understand in class or if I have a problem, I turn to AGU International Center for help. They kindly explain to me what I don't understand, so they are very helpful.
Kodama:When I was in Seattle, the International Center staff often sent me emails. I could respond casually because the emails were not written in formal and uptight language, but in a very friendly style.
Violet:I know! I also attend the chat room run by the International Center.
―A chat room in English?
Violet:No, a chat room in Korean. I'm also studying a little Korean. Because Japanese and Korean languages have a lot in common, it's very interesting for me as a linguistics major.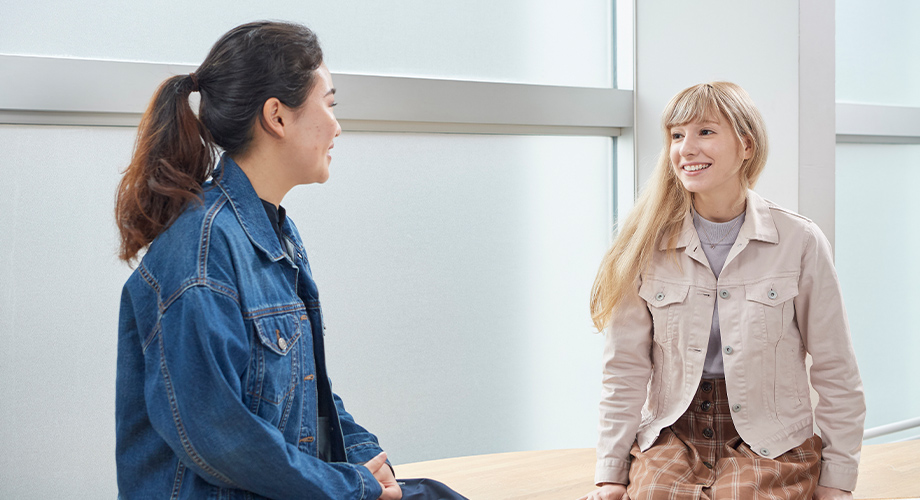 To be yourself and to be considerate to others
―When you immerse yourself in a foreign culture, what do you think is important in order to bring out the best in yourself?
Kodama:Perhaps to just be yourself without fear?
Violet:I agree.
Kodama:When you live within a foreign culture, you tend to become overwhelmed by the people around you, but I think it's important not to be afraid.
In groupwork, I was the only Asian member, so I felt reluctant to speak English among native speakers, and so couldn't talk much. While other students actively expressed their views and engaged everyone else in discussions, I was having difficulty getting my opinion out there. Sometimes I felt helpless.
However, I picked myself up and hit the reset button on my mind, thinking that I would be wasting the fantastic environment I found myself in. I gradually started to somehow express my views, even if very briefly. Every time I said something, group members made supportive comments like "That's a good way to look at it" and "How about doing xxx?" to expand my thinking. Encouraged by them, I started to be more expressive. By fearlessly stepping out of my comfort zone, I became more confident, which led to my personal growth.
Violet:In Japan, I cannot help my appearance being eye-catching. At first, I didn't like this, and couldn't even walk down the street without being overly self-conscious. However, as time went by, I got used to the environment. Now, I can comfortably express my views even if they differ from those of Japanese people. I can just be myself. As for my appearance sticking out, I came to see this in a positive light, thinking it will encourage people to come up and talk to me.
Appearance is not the only difference I feel I have. In Japan, people value reading the room. They are naturally capable of understanding what others are thinking without having to hear their views directly. For me, this is quite difficult. I sometimes become worried about whether I truly understand other people's intentions.
Kodama:In the U.S., people are quite frank when expressing themselves, so it's easier to understand their thoughts, but at times, you might feel startled by their straightforwardness. Meanwhile, in Japan, it certainly is difficult to know other people's thoughts for sure because of the subtle and indirect ways words are used.
Violet:I once became aware of a cultural difference at the coffee shop where I work part time. I have a tendency to laugh when I make a mistake. Once, when I was serving a customer, I laughed at my own mistake, and my manager told me off because it was rude to the customer. I had never thought that laughing would be rude to others. In the U.S., I don't think anyone would mind.
Kodama:I'm also the type who can't help laughing when I make a mistake.
Violet:So, there are people who laugh in Japan too. But since I was told not to, I try not to laugh when I make a mistake. Even if I don't mean to be rude, it wouldn't be nice if the customers thought they were treated impolitely. Good communication cannot be achieved if you unilaterally impose your intentions on others and do not consider how the other party would feel.
Kodama:Understanding a foreign culture probably requires the same approach. Mutual consideration is important when communicating.
―Lastly, please say something to students who are considering studying abroad.
Kodama:Language skills are not the only fruit gained through studying abroad. I have had a wide range of experiences I couldn't have had in Japan, such as forging international friendships, which has made me grow. You will face hard times and difficulties while you are abroad, but by overcoming them, you will definitely acquire new strengths. You only live once. If you feel you'd like to take on the challenge, fly out there and have lots of experiences.
Violet: I would like lots of students to experience studying abroad. You can study the culture and language of the country you stay in, which will help you gain a better understanding of countries and people around the world, as well as of your own country and yourself.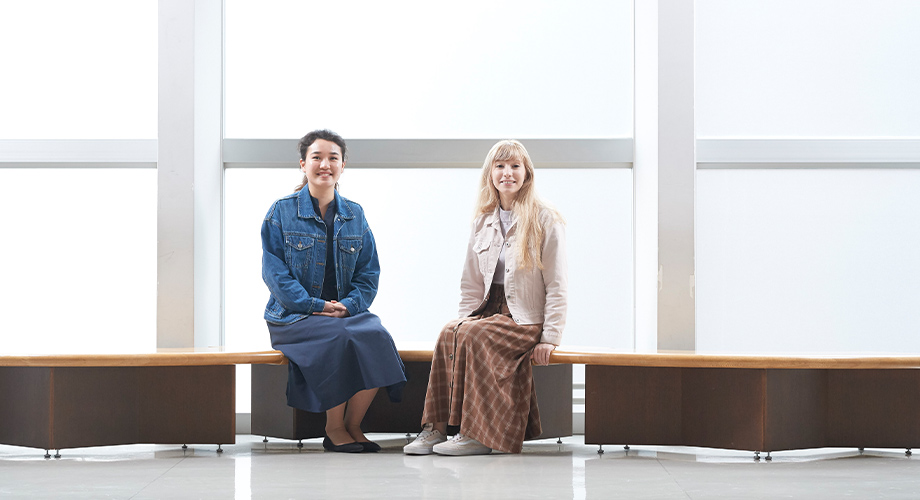 Aoyama Gakuin University International Center
The International Center provides students with a range of support services to enable them to study abroad according to their individual wishes. Students can choose where to study from a diverse selection of universities overseas including partner universities and approved universities, with support provided on how to collect reference materials and how to choose a university. The center also hosts international exchange student orientations, consultation meetings for support from former exchange students, and exchange student seminars where former exchange students talk about their experience. The center also supports exchange students from abroad in addition to Japanese students wishing to study overseas. Opportunities for students to interact with one another are also offered, including coffee meetings where international exchange students and Japanese students get together to play games and do other activities to help participants better understand foreign cultures and chat rooms where chat leaders (roles played by exchange students) lead discussions in English, Chinese, or Korean.