The realization of my dream to study abroad in Japan, and the learnings I'm receiving at AGU, are giving me a real sense of growth
Posted on November 08 , 2022
Junior student
Department of Integrated Information Technology,
College of Science and Engineering
XIONG YUXIANG
Jasper Place High School, Edmonton, Canada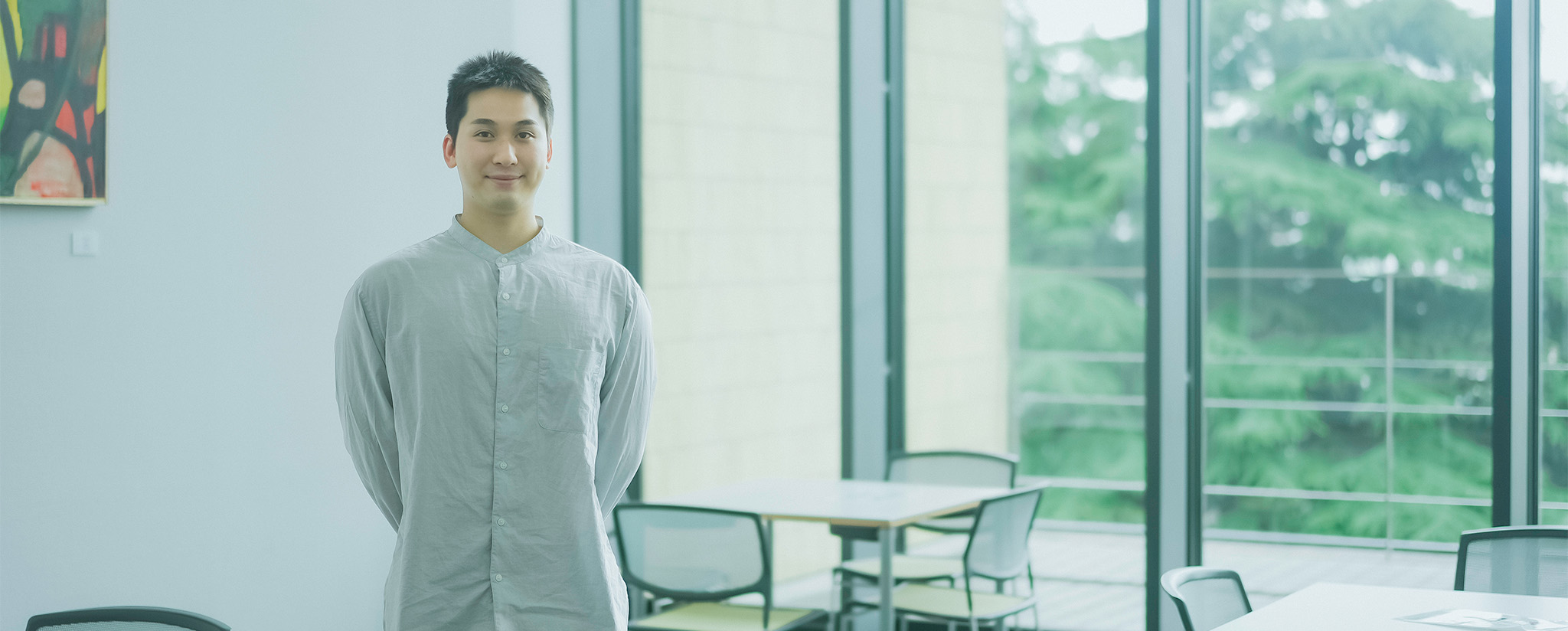 OVERTURE
Ever since he was a child, Mr. Xiong had been attracted to Japan and had wanted to go and study there. He left China, his home country, when he was a high school student in order to improve his English, and now he is here in Japan furthering his education at the Department of Integrated Information Technology to acquire the knowledge and skills in programming that will enable him to pursue his endeavors on a global stage.
Department of Integrated Information Technology is the perfect place to realize my aspirations
My father had studied abroad at a Japanese university and had also worked in Japan. So when I was little, he would often talk to me about the gentleness and politeness of the Japanese people, and about how he enjoyed his life in Japan. For this reason, I naturally came to think that I would like to study in Japan and to experience Japanese life and culture .
Though I learned some simple Japanese from my father, I started to study the language, such as the grammar, during my high school years in Canada. I went to Canada for high school because my father advised me that I should first learn English in order to get ahead in a society that is advancing further toward globalization. And this high school offered Japanese language classes. I also met and became close with twin brothers of Canadian and Japanese mix-rooted. The twins had been in Japan up to junior high school, and I really enjoyed hearing about their life in Japan and about Japanese anime. This only raised my motivation to go to Japan. So, I determined that once I graduated from high school, I would study at a university in Japan. This is how I came to this country.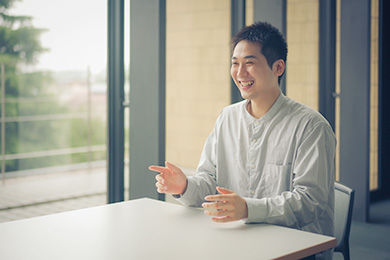 Aoyama Gakuin University (AGU) was one of the choices that was mentioned by my teacher at a Japanese language school which I attended before entering university. My future goal is to be able to work with the world as my stage by making use of the English skills that I acquired in Canada, and I was really attracted to AGU because I learned that it gives importance to English education and nurtures students to have the ability to succeed on a global level. I also enjoy working with computers and playing games and have been interested in programming, so the Department of Integrated Information Technology, which has many courses in English and uses English-language educational materials, was a perfect fit for me. And there are actually many international professors in this department, with some of the compulsory courses being taught in the English language, so I'm able to study in exactly the kind of an international environment that I was looking for. I think I really made a great choice in coming here.
Getting through the exercise course by trial and error has given me a great sense of accomplishment
I was able to acquire a solid grasp of the basic knowledge that forms the foundation for developing expertise and practical skills, not just through the use of the English language but also by studying such fields as physics and chemistry through basic experiment courses in information technology, as well as through math-related courses that are essential for programming. Starting next year, I will begin research by joining a laboratory group. This department is characterized by its having adopted a broad perspective in looking at areas to apply information technology, so the research themes span an unimaginably diverse range, covering anything from information telecommunications to artificial intelligence. So I think anyone would be able to find something that they would want to work on.
For me, right now, what I am most interested in is computer graphics (CG). The Digital Media Design course gave me my first ever experience of drawing object shapes through programming, and it was a continuous stream of discoveries where I was saying to myself, "So this is how the process of drawing is structured!" I wanted to learn even more, so I also took the course on Exercises in Mathematics for Information Technology. It was very interesting to add reflective light and textures by applying the techniques that I learned in class and combining them with my own imagination and creative ideas to achieve the image that I was aiming for. Every time we received an assignment, I became completely absorbed in it. The feeling of accomplishment was all the greater for having gone through a process of trial and error and spent a lot of time working on them.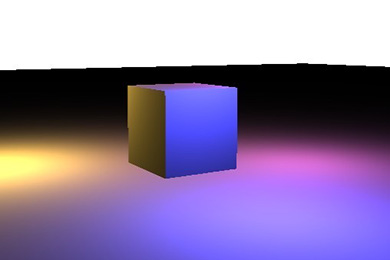 I added light to the object and showcased its texture by implementing CG programming techniques
During classes, I would come across technical terms and difficult words that I wasn't familiar with, not only in Japanese but also in English. So, in order to make sure that I didn't let the class move on while my level of understanding was still incomplete, I would go over what we learned immediately after class and make sure to check each and every word before inputting the overall content of the class into my head. And in order to input what I learn in English in Japanese as well, whenever there's an English word that I'm not familiar with, I first look it up in Chinese to gain an understanding of it, and then take the additional step of linking that to Japanese. I make an effort to go through this two-step process in order to make sure that I get the information firmly lodged in my head. It requires perseverance to keep this up, but in the end, I think steady persistence is the quickest route to achieving your goal.
There are times when I become mentally fatigued because I'm not doing well in my studies. When that happens, my best method for feeling refreshed is physical exercise. I've enjoyed playing badminton from the time I lived in China, so on weekends I play badminton with my Chinese friends, or go and work out at the gym in order to clear my mind.
Working harder to become an engineer that will be successful in the world
One of the reasons why I am really glad to have chosen AGU is because I was able to expand my perspective through AGU's unique The Aoyama Standard course, which is a system that has all students learn together, superseding the different schools or departmental boundaries. Actually, before entering the university, the general education courses were more the cause of my anxieties. At the time, I didn't have enough knowledge of the Japanese language, so I was worried about whether I would be able to communicate well in situations where I would be asked to write out my own ideas. However, I was never criticized about my use of the Japanese language, and when I submitted my work in which I had expressed my ideas in writing to the best of my abilities, my professors gave me a good evaluation for my attitude toward classes and made positive remarks. What made a particularly lasting impression was the Self-Understanding (Coordinated Courses) class, which was one of the core curriculums in general education. This has triggered me to start thinking about myself from various perspectives, such as my ways of associating with gender and society, and the influence that the cultural sphere that I live in has on me.
During my first year at AGU, almost all of the classes were held online because of the COVID-19 pandemic, and I felt nervous because I barely knew what the campus was like. But at AGU, every international student receives the support of a tutor, which really helped me. I was feeling lonely from being at home all the time, so it was reassuring to be able to chat with my tutor via the Line app and being told, "Feel free to contact me whenever you have something you don't understand."
Now that I am in my third year, I feel myself gaining a solid grasp of the Japanese language and of technical knowledge, and I'm filled with a sense of achievement in knowing that I'm advancing, one step at a time, as I continue my studies here at AGU. I'm happy with the orderly lifestyle in Japan, and in the future I hope to get a job here as an engineer. I still haven't decided on a specific research theme, but I'm planning to move on to graduate school and deepen my research in the field of CG. I will continue to work hard in order to become a person who is able to be successful on an international level.
Department Enrolled
Department of Integrated Information Technology,
College of Science and Engineering
Promoting world-class, cutting-edge research covering a wide area of science and engineering.
Students conduct research on technology that is friendly to human beings by merging and accumulating wisdom about information and knowledge.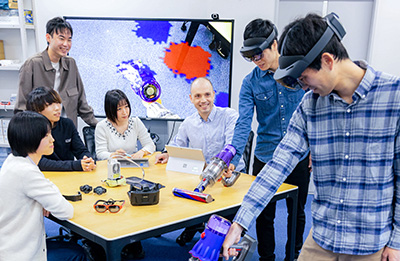 Aoyama Gakuin International Center
The role of the International Center (IC) at Aoyama Gakuin University is to provide educational support related to the internationalization of the university as well as to support the development of students to become global citizens. The main work of the IC consists of assisting both students going overseas and international students from overseas partner schools and approved institutions; as well as planning and operating intensive language training along with other programs and special events. The worldwide trend of globalization affects not only corporate activities and international relations, but should also impact the structure of university education and curricular content. With that in mind, the IC strives to strengthen and expand collaboration between overseas universities and Aoyama Gakuin University while respecting the diverse cultures and traditions of each country as well as the customs and values of our students.