Studying at AGU to Gain Awareness on Social Issues and Provide Deeper Insights into Them
Posted on November 04 , 2022
<Given AY2022 commendation as one of the students with the most outstanding academic performance>Junior student
Department of Cultural and Creative Studies, School of Cultural and Creative Studies
TEE KAI LUN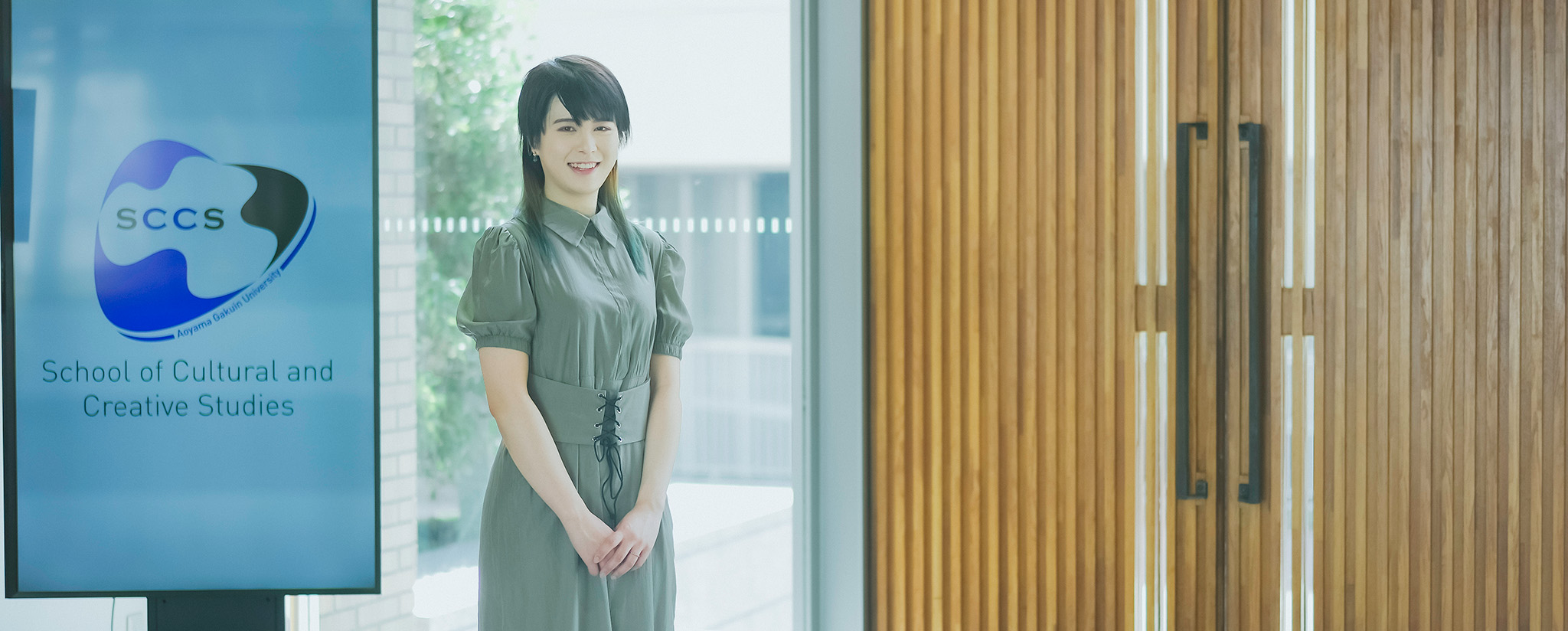 OVERTURE
TEE KAI LUN, who is from Malaysia, is studying at AGU's School of Cultural and Creative Studies and at the same time fulfilling her childhood dream of living in Japan. She received an AY2022 commendation from the University as one of the students with the most outstanding academic performance. Armed with intellectual curiosity and a strong awareness of what she wants to do, Ms. TEE is also engaged in activities that allow her to express through art her ideas about issues affecting socially vulnerable people and minorities, in which she has developed a greater interest through her studies at the School.
Thrilled to be learning about Japanese culture at AGU
Because of my parents' work, I was raised in Shanghai. Watching Japanese anime dubbed in Chinese was part of my life as far back as I can remember. One day, I watched an anime show in the original Japanese and was captivated by the soft and delicate sounds of the Japanese language. In fact, I would even say I fell in love with the language. From that day on, I began to learn by heart quotes from Japanese anime and Japanese songs in the original Japanese, and also gradually developed an interest in Japanese culture and the scenic beauty of the country. Being strongly determined to live in Japan in the future, I made steady efforts to turn this dream into reality. At junior high school, I took a Japanese language class and then for senior high school I enrolled at an international school that offered a Japanese language course. When I was in my third year at that school, I came to Japan to study at its sister school in Sapporo, Hokkaido and was really happy to actually be in Japan as I had long been planning.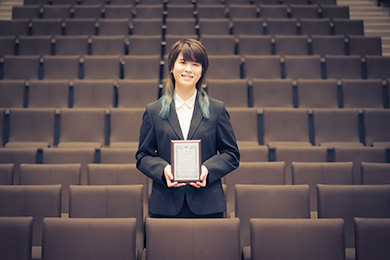 I had been interested in learning how to plan and implement events and the like, and I also had a strong interest in traditional Japanese culture. I talked about this with the careers counselor at the international school in Sapporo, and the teacher told me about AGU's School of Cultural and Creative Studies. Taking a look at the list of classes offered by the School, I decided I wanted to study there and submitted my application without a second thought, being strongly attracted by the following four factors: the abundance of classes to help students develop skills in event production; classes suitable for students interested in Japanese culture; a focus on English, which I wanted to study more as a third language; and the location of the campus in the Omotesando/Shibuya area, which is a hub for the latest trends and birthplace of new culture.

After enrolling at AGU, I attended classes such as Japanese Performing Arts and Traditional Industries to satisfy my interest in Japanese culture. I find it quite interesting that these classes are taught by non-Japanese teachers. In particular, I was deeply impressed by what Associate Professor Michael KUSHELL shared with us in his Study of Festivals class. Specifically, he talked about his own experience with "Jikabuki," which is kabuki performed by local people in local festivals. These classes in which non-Japanese teachers talk about Japanese culture have provided me with opportunities to gain new insights into the culture by approaching it from the viewpoint of an outsider, and I feel great empathy with what the teachers have shared with us in the classes. It was really nice to share the excitement of being in Japan as a lover of Japanese culture with my teachers. One of the appeals of AGU that I have discovered after coming here is that the faculty generally incorporate their own experiences and international viewpoints into what they teach students in class.

When deciding on which classes to attend, I carefully read the class syllabuses, including those provided by other departments, as I do not want to miss any classes that would satisfy my interests. Right now, I am enjoying learning about ghost stories written in the Edo period in the Lecture on Japanese Literature I [6] class, which is provided by the Department of Japanese Language and Literature. The way I study is I have a notebook for each class and I use it to make a variety of notes. For example, I transcribe notes from the reference materials shared with students in online classes and use a highlighter to mark the parts that I think are particularly important. I also write down any new ideas of my own that strike me. It might not be an efficient way of studying, but for me the notebook is a useful tool for acquiring new knowledge when I write papers. I think I was able to receive an academic year 2022 commendation from the University as one of the students with the most outstanding academic performance because I attended each of my classes for a specific purpose and studied the subjects in an attentive manner.
Enhancing my ability to think and express myself through the Seminar and Laboratory Training classes given at the School of Cultural and Creative Studies
To experience the essence of the School of Cultural and Creative Studies you should attend the Laboratory Training and Seminar classes. Wanting to be able to write and express myself in written Japanese, a beautiful language that I admire, I have been participating in the Laboratory Training class since I was a sophomore to learn about the power of words. For the training, each student chooses a theme that is interesting to them and then forms a team of each theme to create written works. Last year, I joined three teams: one on "diversity and multiculturalism," one on "novels" and one on "food." In the "novels" team, I took on the challenge of writing a novel, which I had tried in the past but without success. It was really difficult to write a novel in Japanese, but I was finally able to complete a short story of about 3,000 words, and this achievement gave my self-confidence a real boost. In the "diversity and multiculturalism" team, I talked with other team members at a roundtable meeting attended by Mr. Hideo HONDA , the instructor for the Laboratory Training class. The exchange of opinions lasted for three hours in a row. By listening to others' opinions at the meeting, I was able to improve my awareness of the theme and, based on the new insights I picked up, I was able to think about and express what I wanted to communicate as a foreign national living in Japan. It was really quite a meaningful time for me.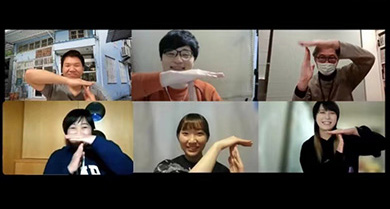 Roundtable meeting held online by the "diversity and multiculturalism" team as part of the Laboratory Training class
I am also studying a range of social issues through the Seminar class given by Professor Yutaka MORISHIMA. Soon after entering the University, I attended an online class given by the professor, who attracted students by coming up with a range of fun things to do that can be enjoyed via a screen, and I found the professor's tremendous passion for the class very appealing. I also decided to take the Seminar class because I was not versed in social issues, which is its subject, and I wanted to learn about the issues and listen to other people's opinions to broaden my perspective. Both the Seminar and Laboratory Training classes often allow participating students to decide specifically what and how to learn through their own discussions, which helps me learn how to collaborate with others. It also helps me acquire the ability to consider and identify problems on my own initiative and to express my ideas appropriately in words.
Developing an interest as the first step to changing society
By studying at the School, I have developed a strong interest in social issues, which I think is the biggest change I have experienced in myself through my studies. The School has been providing me with a range of opportunities to think about diversity-related issues in society, such as those related to nationality, gender and refugees, including thinking about how we can cope with cultural diversity to live peacefully with others in some classes other than the Seminar and Laboratory Training classes. As a result, I have begun to think more deeply about minority groups.
Based on the new awareness I have gained through my studies, I have started to get involved in new activities. Specifically, having been invited by one of my friends from the Seminar class, I am engaging in extracurricular activities as a steering member of Art Lab Philia, which is a group that is conducting artistic experiments with the aim of sharing the views of people belonging to minority groups through art. An activity that we initiated by asking, "How can individuals shine in their life, regardless of gender?" was adopted as one of the QWS Challenge projects promoted by SHIBUYA QWS. Based in Shibuya, this organization positions itself as the "intersection of possibilities that asks the world from Shibuya" and it has been soliciting projects designed to create unknown value. Those that are adopted are implemented as "QWS Challenge" projects. Professor Elin S. McCREADY at AGU's College of Literature, who is a trans woman from the U.S., kindly cooperated with us by appearing in a video that we created for an onstage presentation about our QWS project. In the process of preparing our presentation, we held a range of talk sessions with related parties and study meetings with senior high school students, and we were able to gain a lot of new insights. Although news about LGBTQ+ people tends to have a serious tone, what struck me about Professor McCready and other LGBTQ+ people whom I met during the project was that they were simply enjoying their lives. For me, the biggest outcome of the project was that it has encouraged me to be myself. We also received comments from those who watched the video, such as, "The video gave me courage" and "It helped me learn about the issue." Our team's mission is to "Turn indifference into interest," and developing an interest really is the first step to taking action. The project has taught me that we can go beyond the framework of established ideas and can make changes gradually by deepening our knowledge.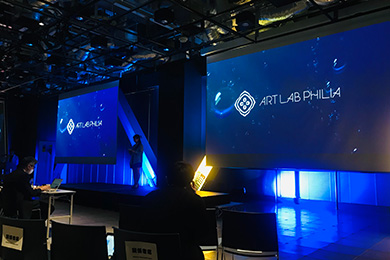 Art Lab Philia's onstage presentation on its QWS project
Having been treated kindly myself, I want to avoid bringing prejudices to my interactions with others
One of the things that I have recognized after coming to Japan is that categorized stereotypes are not applicable for everyone. For example, despite my having heard that "Japanese people do not express their opinions," there are Japanese people who do proactively share their views. There are also Japanese people who talk and listen to me without prejudice, although I am not Japanese. On the other hand, unfortunately, on social media platforms I sometimes read hurtful comments about differences in race and nationality, including those that constitute racial abuse, which seem to be the result of misunderstandings and prejudices. I therefore want to be able to interact with anyone without prejudice. In order to foster diversity in society, we need to pay attention to our unconscious biases and for my graduation thesis I plan to investigate the issues involving foreign nationals in Japan from a neutral standpoint, wanting to make the thesis the culmination of my studies at the University.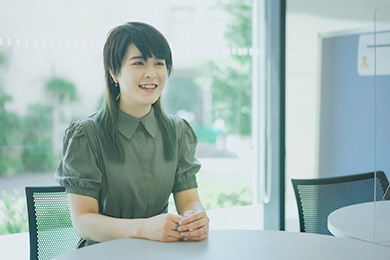 Looking back on my time at AGU so far, I have been treated kindly by a lot of people. Many AGU students are interested in overseas countries and some even try to speak to me in Chinese after learning that I was raised in China. The teachers are also very kind. In particular, I will never forget the kindness shown to me by my Japanese language teacher when I was in my first year at the University. The teacher delivered to me a beautifully handwritten and encouraging letter, posting it on the learning support system as the class was held online in my first year due to COVID-19. As a privately financed international student from Southeast Asia, I am also receiving a scholarship from the SGH Foundation, and when I applied for this scholarship the staff at the Academic Fees and Scholarships Division were very kind and gave me a lot of support, always smiling as they helped me follow the application procedures. And then, to my great pleasure, when I finally got the scholarship, they were very pleased and shared my joy.

I am still in love with Japan and am leading my life just as I dreamed. I would like to continue to stay in Japan after graduating from AGU and to find a job through which I can contribute to other people's happiness.

You might have concerns about living and studying in Japan, but I think you will be able to enjoy living here as you learn new things and are treated with kindness by local people. I hope you make your dream of visiting Japan and studying here come true. Don't give up.
The number of years enrolled, titles and activity details are as of the time the interviews were conducted (in academic year 2022).
Note: The links included in the text are for the subjects offered by the University for academic year 2022.
Department Enrolled
Department of Cultural and Creative Studies,
School of Cultural and Creative Studies
Nurturing people who disseminate culture to the world from Aoyama, an international and cultural urban area, in the 21st century, a century of cultural creation.
Our aim is to encourage students to cultivate wisdom for the creation of culture in the 21st century and give them the capability to produce culture and art.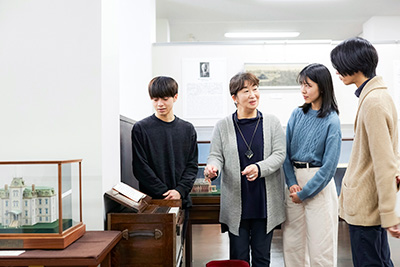 Aoyama Gakuin International Center
The role of the International Center (IC) at Aoyama Gakuin University is to provide educational support related to the internationalization of the university as well as to support the development of students to become global citizens. The main work of the IC consists of assisting both students going overseas and international students from overseas partner schools and approved institutions; as well as planning and operating intensive language training along with other programs and special events. The worldwide trend of globalization affects not only corporate activities and international relations, but should also impact the structure of university education and curricular content. With that in mind, the IC strives to strengthen and expand collaboration between overseas universities and Aoyama Gakuin University while respecting the diverse cultures and traditions of each country as well as the customs and values of our students.