Meet at AGU and Study Together in an Environment That Supports Their Thirst for Learning
Posted on January 25 , 2023
Senior student
Eastern History Course, Department of History, College of Literature
<Given AY2022 commendation as one of the students with the most outstanding academic performance>
WANG HE
×
<Given an AY2022 incentive award for outstanding academic performance>
HUANG YIZHE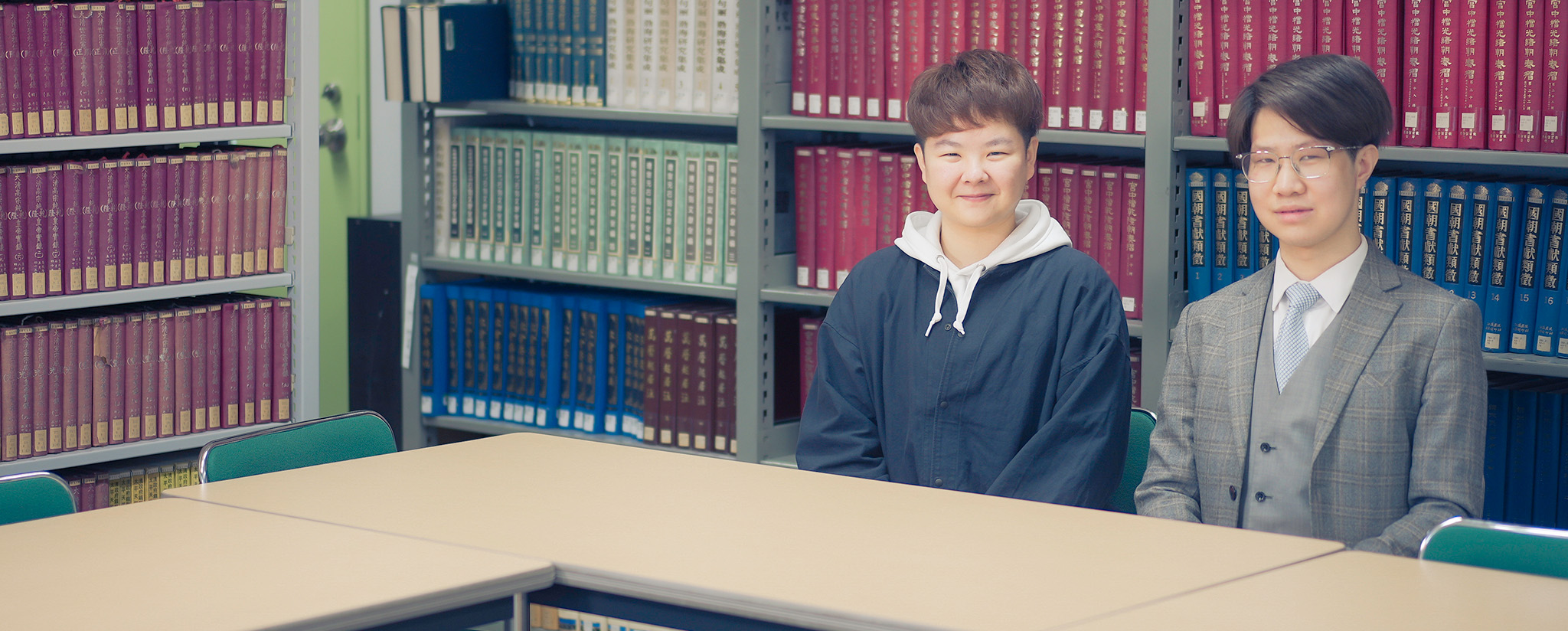 OVERTURE
At Aoyama Gakuin University, international students from various countries and regions are blazing their own higher education trails, taking advantage of experiences that they could not get anywhere else. Ms. Wang and Mr. Huang, who are both from China, are taking the Eastern History Course offered by the Department of History at the College of Literature. They have both demonstrated outstanding performance in their classes and research activities and were selected to receive the Honors Scholarship for Privately Financed International Students given by the Japanese Ministry of Education, Culture, Sports, Science and Technology (Japan Student Services Organization). Moreover, Mr. Huang received an AY2021 incentive award and an AY2022 incentive award for outstanding academic performance for two consecutive years, and Ms. Wang was given an AY2020 commendation as a student with outstanding academic performance and an AY2022 commendation as one of the students with the most outstanding academic performance. The two are attending the same seminars and aim to continue their studies at graduate school. We interviewed them about learning at AGU, the details of their research and their future plans.
Department Enrolled
Department of History,
College of Literature
The study of history at AGU is unique in terms of the breadth of areas it covers, which is not seen at other universities. The Department comprises of five courses by area: Japanese History, Oriental History, Occidental History, Archaeology, (which is divided by area), and Art History. Various specialized faculty members present diverse perspectives. The tradition of the Department since its founding has been to "look at history from a wide perspective and to conduct specialized analyses of concrete issues based on that perspective." First-year students thus learn an overview of all the courses, and in their second year they choose a course that interests them in order to conduct specialized research. To study history is to analyze the unbroken activities of human society, and to learn about the thoughts of people who lived before us. We may then review contemporary times and deliberate upon what the ideal future is.
Aoyama Gakuin International Center
The role of the International Center (IC) at Aoyama Gakuin University (AGU) is to provide educational support related to the internationalization of the university as well as to support the development of students to become global citizens. The main work of the IC consists of assisting students going overseas and international students both from overseas partner schools and degree-seeking, full-time international students. Providing scholarships with those students is another task of the IC. It also plans and operates overseas intensive language and cultural programs during summer and spring vacation. The IC strives to strengthen and expand collaboration between overseas universities and AGU while respecting the diverse cultures and traditions of each country as well as the customs and values of the students.