Studying abroad and meeting diverse friends to foster a global mindset and move out into the world
Posted on March 19, 2018
Senior student
Department of International Communication
School of International Politics, Economics and Communication
KONDO Sakiko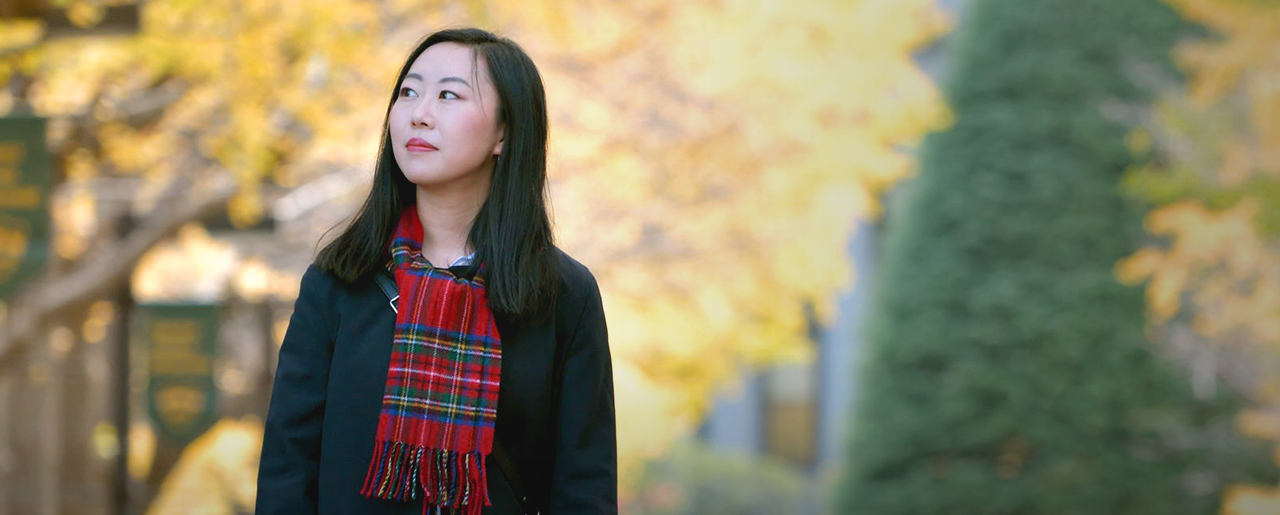 OVERVIEW
Through internship and overseas study programs, the arena of learning for university students has expanded beyond Japan to include the rest of the world. Here are some Aoyama Gakuin University (AGU) students and alumni who have nurtured global perspectives and thinking at AGU that have taken them to the world stage.
Lectures in English prompt shift to international politics
Having taken an interest in intercultural exchange when I was at high school, I chose to enroll in the Department of International Communication, School of International Politics, Economics and Communication at AGU to study intercultural communications. During my first two years, I mainly focused on case studies on methodologies for interacting with people of different cultural backgrounds, including linguistics and sociology associated with communication studies and communication skills. Also, because I had always wanted to study abroad, in my second year I enrolled in the Global Studies Program (GSP), which offered specialized courses in international politics and economics taught in English.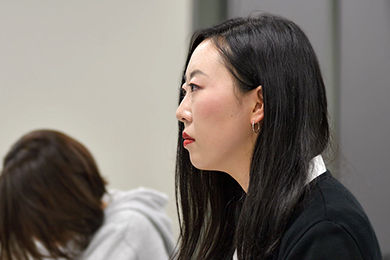 Among the many politics and economics courses offered in English, I enrolled in Global Governance or International Politics, among others, in which I was especially interested. In the courses, American teachers taught Japanese politics in English, and I found the cross-cultural learning style intriguing. As I further studied politics through these courses, I realized that the scope of my interest expanded into the realm of international politics. My objective of taking courses taught in English was to prepare myself for studying abroad, but they unexpectedly provided me with an opportunity to ascertain what I truly wanted to study, which was a great benefit for me.
After this turning point, I shifted my focus to international politics as a third-year student, and proceeded to join Professor Takashi Oshimura's seminar, where I now study the relationships between diverse identities (e.g., nationality, religion, ethnic groups) and international politics. The professor's classes address a wide range of global events beyond politics, providing me with great inspiration to expand my academic horizons. All my seminar peers are unique, with diverse backgrounds including "returnee" Japanese students who have lived overseas. The issue of "identity," or the need to explore who we really are, is, to most of them, their own issue. When we discussed the topic of nationality at the seminar, participants spoke from their own experience about the inconvenience of not being able to hold dual nationality and discussed which passports are more beneficial than others, which was interesting. The seminar made me realize that it was a big mistake to believe that my own views based on my Japanese background and upbringing were naturally right, which prompted me to think from a global point of view.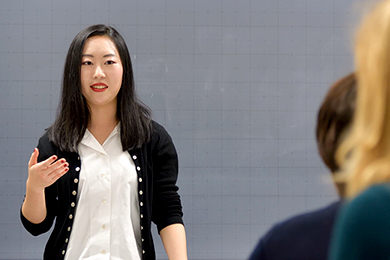 Studying the theoretical foundation of politics at the University of Kent
Studying in the seminar raised my interest in culture-oriented public diplomacy as exemplified by the Cool Japan Strategy, which motivated me to study at the University of Kent in the U.K., a university well renowned for its international politics program, from the second half of my third year. Initially, I had planned to study foreign policy at Kent, but as I proceeded with my studies, I became interested in philosophy and political thought, which constitute the foundation of political actions such as diplomacy and elections.
Students studying politics at European universities start with Greek philosophy and move on to a systematic study of politics. Although initially I had no intention of studying philosophy, after taking a variety of courses on philosophy and thought, including the fundamental question of "What is freedom?" and the thoughts of Plato and Aristotle, I gradually became enthralled by philosophy. As I developed my thinking based on what I had learned about political thought, I became aware that I had to study the theory of politics if I were to understand its practical phase, and proceeded to focus on political thought. Studying at Kent served as a turning point for me. After I returned to Japan, for my graduation thesis I chose a research theme focused on nationalism, which was associated with political thought.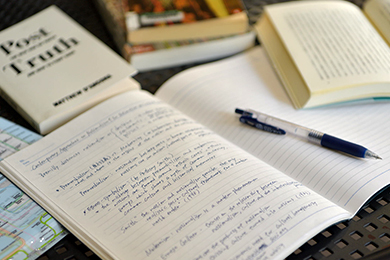 In the U.K., I lived in a university dormitory with nine other students including Middle-Eastern British, Indian Swiss, and Botswanan students. Having lived with friends with even more diverse roots than my seminar peers, I ultimately concluded that we are all the same, just human. Of course, while there are small cultural differences in our dietary customs and daily lifestyles, the same things make us all happy and we are likewise all disgusted by the same things, such as coming across old garbage. I realized that for some reason we all share the same core as human beings. With regard to intercultural exchange, I learned how different cultures can be through communication studies, and how we can connect with one another despite our differences through my life abroad as a student.
At Kent, I struggled with writing in English because many of the courses I took required students to hand in essays as well as take essay-type exams. An Italian girl who lived in the same dorm as me was enrolled in the same politics course, so we encouraged each other. I owe my good grades to the friendly rivalry I had with her. I made efforts to be an active participant in class discussions and plucked up the courage to enroll in seemingly daunting courses. By being a proactive "doer," I was able to make more friends and achieve academic growth.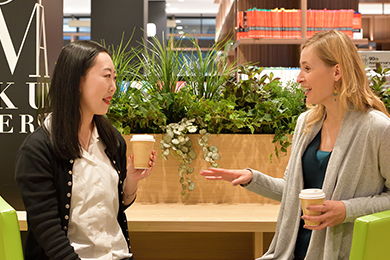 Working as a UNIC intern and aiming to become a journalist
Having studied abroad, I was drawn by the prospect of pursuing a future in the global arena, including furthering my studies as a graduate student or working for an international agency. I returned to Japan in June of my fourth year, so I had some spare time before the fall semester started in September. Considering it an opportunity to take on a new challenge, I decided to participate in an internship program at the United Nations Information Centres (UNIC), where I could put my English skills and knowledge of politics to use.

Under the internship program, I gained experience in a wide range of jobs including collecting newspaper articles on the United Nations, supporting the administration of events and conferences, and taking junior and senior high school students on guided tours of the United Nations University building. Through the program, I became aware of the importance of public relations. Also, by working at an international organization, I learned that UN staff, who seemingly lived in a different world to me, were in fact engaged in tasks that were relevant to us. I had many opportunities to answer phone calls and reply to emails on behalf of the staff, which was also meaningful in that I was able to experience life in the real world before graduating from university.
Looking back on my four years as a university student, I was able to gain a truly diverse academic experience. While enrolled at the Department of International Communication, I took courses offered by the Department of International Politics and joined a seminar on international politics; improved my English skills through lectures taught in English and IELTS classes; and studied abroad. I truly believe that I owe the four years in which I enjoyed fulfilling experiences to the educational environment provided by AGU's School of International Politics, Economics and Communication, which offers interdisciplinary studies on politics, economics, and communication as well as extensive foreign language education programs.

After graduation, I will be going on to study at a graduate school in the U.K. My future goal is to become a global journalist. Working at an international organization may also be an option. Wherever I am, whatever I do, I am determined to face the world by applying my global mindset fostered at AGU.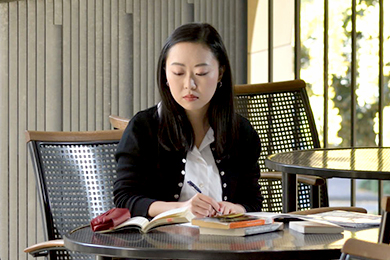 A day in my life as an intern at UNIC
9:30 a.m.

Read through seven leading morning newspapers, both Japanese and English, pick out and photocopy UN-related articles, and distribute them to the staff.

11:00 a.m.

Support staff by responding to emails and phone calls. Occasionally run errands, including delivering documentation to the Ministry of Foreign Affairs.

12:30 p.m.

Take a one-hour lunch break. "I sometimes took lunch at the AGU cafeteria because the UNIC was just across the street from AGU." (Ms. Kondo)

2:00 p.m.

Guide a group of school excursion students on a 90-minute tour of the United Nations University building, showing its conference halls and other facilities and introducing the UNIC to them.

4:00 p.m.

As with the morning newspapers, pick out UN-related articles in evening newspapers and distribute them to the staff. Leave office at 5:30 p.m.
Department Enrolled
Department of International Communication
School of International Politics, Economics and Communication
Toward the goal of fostering human resources capable of working on the global stage, the Department of International Communication offers students research and education programs focused on trends in the increasingly diverse and complex international community from the perspectives of language sciences, comparative cultural studies, and communication.