Finding a Dream of Connecting the World through International Events in the Course of Studying at AGU
Posted on March 23, 2022
Senior student
Department of International Communication
School of International Politics, Economics and Communication
YUN GI WON
Suhmoon girl's High School, Seoul, South Korea
OVERTURE
Ms. Yun, who is from South Korea, wanted to serve the international community. Capitalizing on the high-level language skills and abundance of international experience she had acquired at the University, she was able to work as a volunteer interpreter and student intern in broadcasting services at the Pyeongchang and Tokyo Olympic and Paralympic Games, thereby making her dream come true.
Deciding to study at AGU in order to become an international person
When I was in Senior High School, I joined my local Scout organization as an extracurricular activity. During this time, I participated in a Jamboree, which is an international gathering of Scouts. At this international event, I used Japanese, which I had been studying independently, to communicate with participants from Japan in a meaningful way.
Based on this experience, I began to seriously want to serve as a bridge between Japan and South Korea at some point in the future. I subsequently studied at a Japanese university as an exchange student while I was enrolled at a university in South Korea. Falling in love with the experience of being able to interact with students from all over the world and get different perspectives on the various things we talked about, I decided that my dream was to contribute to the world while based in Japan, and I really wanted to study in Japan in a more comprehensive way.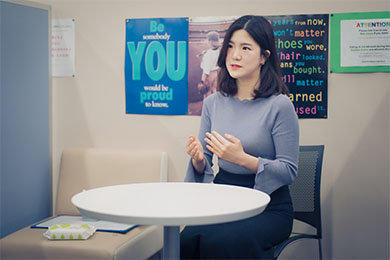 I decided to study at Aoyama Gakuin University (AGU)—my first choice among universities in Japan—because it had been focusing on English education since the beginning as well as providing students with a range of courses relating to linguistic and cultural exchange.
After being admitted to the University, I was reassured that AGU really was the best university for me—a place where I could receive high-quality education from teachers who were both friendly and strongly committed to educating their students. Furthermore, the University's campus is in Shibuya, which is known all over the world, and its students can attend the monthly lectures given by outstanding guest speakers from different countries at the United Nations University, which is located just opposite the University, across Aoyama-dori avenue.
Wanting to communicate the great features of the University to young people in South Korea, I visited my home country with staff members from the International Center when I was a sophomore and served as a student representative at the "Study in Japan" fair, which is where I had originally learned about AGU myself.
Developing a greater interest in the world through the University
The Department of International Communication within the School of International Politics, Economics and Communication provides students with a global environment in line with its curriculum policy. This policy is to help students acquire the ability (including high-level language skills) to cooperate and collaborate with people around the world as a member of the international community, and the department offers a range of classes to this end. For me as someone, who was very interested in acquiring language, cultural and communication skills, it really was the best place to study.
For example, I fondly remember attending classess given by Professor Richard J. Evanoff in which participants learned about intercultural and interlinguistic communication. He is a great teacher and I am now attending his seminars. In the class, which had lots of international students, I was often asked by the professor, "Ms. Yun, as the only student from South Korea in this class, what do you think of this?" Through this class, I became able to adopt a proactive attitude.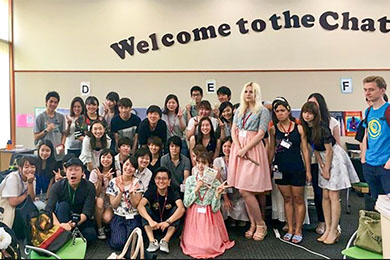 Celebrating Asian Day with members of the chat room
The class on education training also left a lasting impression. This was a class mainly for students who wanted to become English language teachers. One day the teacher asked me to teach the other students Korean without using any Japanese, which I did for 10 minutes. Lots of the students seemed to feel awkward, being unable to understand what I was saying in Korean. The teacher then said this to the students: "How you feel now is how students who cannot understand English will feel. Please don't forget what it feels like." This message was very inspiring to many of us.
Also, in the standard class on issues in modern society, some guest speakers from the LGBTQ community talked about their experiences. Since attending the class, I have been seriously thinking about how I should interact with gender minorities, and when I was studying in Canada, I participated in one of the largest LGBT events held in the country as a volunteer.
At the School of International Politics, Economics and Communication, students have been fostering exchanges with students and teachers from Lampung University in Indonesia. When I was a sophomore, I learned about the religion of Islam as a student leader of the exchange program and it was a really eye-opening experience. Then, before starting my junior year, I deferred from AGU to study in Canada.
As a result of this, since becoming a junior I have been serving as a chat leader for English in the chat room where I had already been serving as a chat leader for Korean for my first two years at the University. Moreover, at the dormitory for international students, I am helping people adjust to life in Japan as a resident assistant. Looking back over my five years at the University, I have been able to have a range of valuable experiences that have helped me become an international person.
Interacting with people from around the world through the Olympics and Paralympics.
During my first year at AGU, I participated in the Pyeongchang Olympic and Paralympic Games as a volunteer Korean-Japanese interpreter. Based on this experience, I began to want to participate in international events as a way of connecting the world. Because in Pyeongchang I had become keenly aware of what I lacked in terms of my English ability, I subsequently studied in Canada and then participated in the Tokyo 2020 Games as student intern for the Olympic Broadcasting Services(OBS), a central organization that supervises the TV and radio broadcasting of the Games in cooperation with the Organising Committee, IOC and international broadcasters. Student interns support the international broadcast crews stationed at the venue so that they can concentrate on their job without having to worry about the little things.
For the Tokyo 2020 Games, having been highly appreciated for my participation in the previous Olympics and Paralympics and for my experience working as an intern for an IT enterprise, I was appointed to work as an assistant to the OBS management team at its main offices located within Ajinomoto Stadium and Musashino Forest Sport Plaza. Specifically, I was tasked with logistics and traffic management, Japanese-English interpretation at meetings with the Organising Committee, providing support to around 300 broadcast crew members from all over the world as well as to other departments, and the management of 30 student assistants. I basically served in an all-rounder role as a contact point with the people in charge at OBS.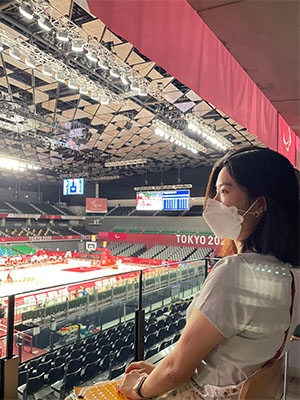 At the 2020 Games, I did feel awkward and nervous because of the language and cultural barriers, unfamiliar broadcasting terms and a way of working that was different from the traditional Japanese style. However, I was pleased to be able to take part in such a great international event and every day held great excitement. I was also lucky enough to be selected to be an interpreter and an intern coordinator for KBS for the Beijing 2022 Games.
Wanting to support international events to connect the world going forward
In the future, I would like to work as a coordinator who serves as a bridge between journalists, the organizing committee and other stakeholders for various international events. In order to work with journalists, I think having some technical knowledge in the field will be necessary and have therefore decided to go to graduate school while I work. I plan to research the roles of mass media at international events. I would like to develop my career to the point where eventually I can work for an international sports organization.

I have been choosing paths that lots of other students would not have selected and have often felt frustrated at the gaps between myself and those around me. However, as a result of boldly embracing challenges, I have been able to have many worthwhile encounters and learn a lot from them. If I had not gone to Japan, I would not have been striving every day with an eye to eventually working in a position where I can support international events, such as the Olympics. I would compare studying and working to a marathon rather than a sprint. By continuing to make efforts, you can find something that you truly want to do, and based on what you have already done, you will be able to take on the challenge of actually doing it. I hope that everyone reading this will follow their own path and not give up halfway.
Department Enrolled
Department of International Communication
School of International Politics, Economics and Communication
Toward the goal of fostering human resources capable of working on the global stage, the Department of International Communication offers students research and education programs focused on trends in the increasingly diverse and complex international community from the perspectives of language sciences, comparative cultural studies, and communication.