To be an independent thinker at all times
Posted on March 30, 2019
President, AGU Engeki Kenkyukai (Drama Study Club)
IGA Ayaka
Junior student
Department of Japanese Language and Literature
College of Literature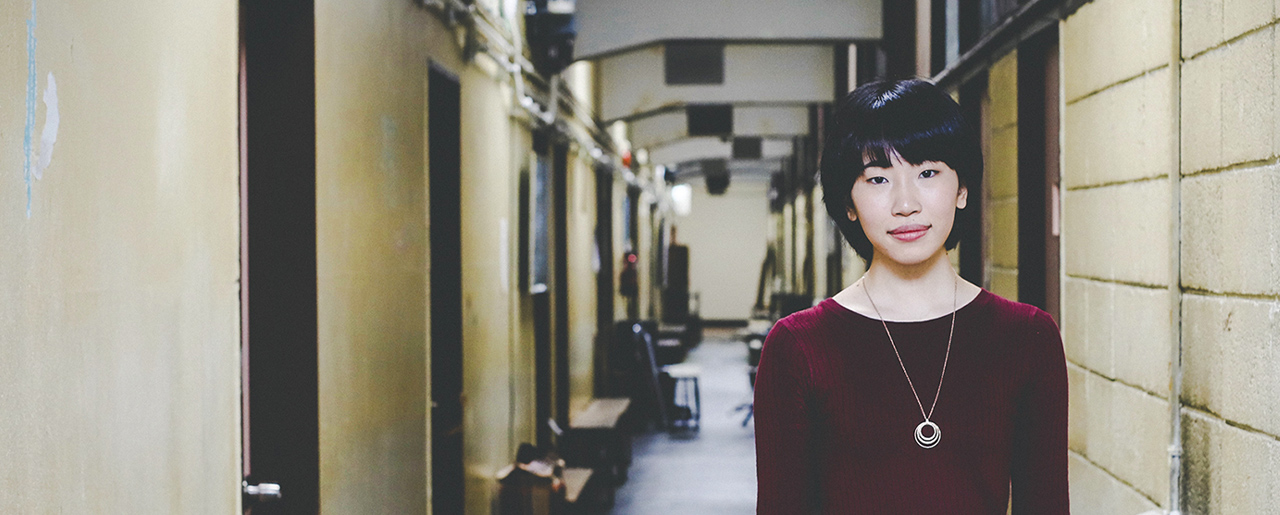 OVERVIEW
Learning opportunities at a university are provided not only through classes, but also through clubs, circles, and other extracurricular activities including volunteering. Here are some students who have worked hard outside the classroom, acquiring new insights that will help them move out into the world.
Aspiration to make myself useful
I joined a drama company for kids when I was a third-year pupil at elementary school, and also belonged to the theater club at junior and senior high school, so I had no second thoughts about continuing to engage in drama when I entered Aoyama Gakuin University(AGU) . There are several drama circles other than the AGU Engeki Kenkyukai (meaning Drama Study Club) (abbreviated as "Aogeki"), such as the Sogo Butai Geijutsu Aikokai (meaning Comprehensive Stage Arts Circle), which performs musicals, but I believe Aogeki is the only group that performs simple plays with no singing or dancing.
At first, I performed as an actress, but I had a strong desire to learn about theatrical production. When I consulted a senior member of the club, she advised me to try my hand at stage direction or production, so for the summer performance, I assumed the role of assistant producer. When it was two days before our performance, we were checking the stage equipment at the theater when something went wrong.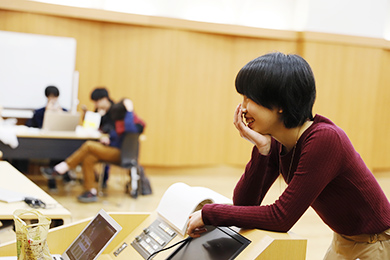 The stage mechanism was not working properly. Standing beside some senior members who were working hard to fix it, I could not take any action to help them. Shocked at how useless I was, I wished that I could become a resourceful person who could propose alternative solutions whenever a problem occurred. Harboring such budding ambition, I went on to acquire experience in a wide range of roles including production. I ultimately took on the role of stage director, whose main task was to coordinate the entire crew, connecting all the sections so that the performance can be staged smoothly. By comprehensively overseeing the overall progress, I had to ensure that there were no flaws in the preparation, and at times needed to provide advice to different sections so that they could collaborate. My work involved all kinds of tasks to ensure that we could give a better performance.
Regarding all performances, I always felt regretful, focusing on what I could have done better, and was hardly ever pleased with myself for having put on a great performance. This habit of reflecting on myself was not always bad, because when I later succeeded in doing something I couldn't in earlier performances, I was able to recognize my own growth.
Learning at College of Literature benefits theatrical production
I chose AGU for the simple reason that it is situated in an appealing location. The university is located in Omotesando, a super hip area of Tokyo, and yet the campus is not too cramped, with lush greenery and a peaceful atmosphere. The student pamphlet for the Department of Japanese Language and Literature, which I had hoped to enter, stated "students who can think from a comprehensive perspective" as its educational goal. Today, majoring in mathematics, science, and engineering tends to be regarded as more meaningful than majoring in literature. The latter tends to be disregarded as useless in life and society, but I simply felt that AGU's approach of encouraging literature majors to acquire the ability to think was cool.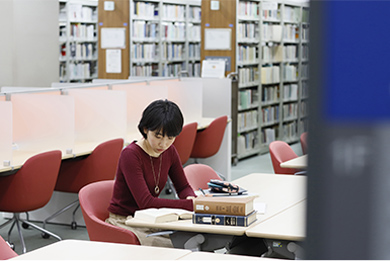 At AGU, I have been focusing on Japanese linguistics rather than literature. AGU offers diverse ways of enrolling in seminars, including double and triple enrollment as well as taking the same seminar again, allowing students to study diverse themes. In my case, in my fourth year I returned to the seminar I took in my second year. I am hoping to study pragmatics, which is the study of the way in which words used by a speaker are interpreted in a different way from what was really meant because of the context.
The basic idea in pragmatics is that there is more to communication than what words can get across. This concept is important in theater production. For example, when someone says, "This room is clean and tidy," it is a compliment if the room really is clean and tidy, but is sarcasm if it is messy. Plays are usually performed in a space known as a theater, not on radio. This is why we do not just rely on lines, but are conscious of what we can express through the space in its entirety by using stage design, sound effects, and lighting. Rather than putting everything into words, we try to leave room for the audience to think for themselves. This way, we can produce and offer a theater experience that will remain in the minds of the audience.
To be cool and always thoughtful
Serving as a stage director for Aogeki has broadened my horizons. Since the role of a stage director is to get involved in everything he or she can, I must always be attentive to what each member of the crew is doing, which has helped me grow. Also, whenever I express my opinion, I try not to judge things solely from my own perspective and force my opinion on others.
When we are biased, frictions occur, which may prevent our play from being performed on stage. The role of a stage director can only be fulfilled if I look at things from all kinds of perspectives—the perspective of each member of the crew, the audience, the theater, and all other outside parties—and think and take actions based on my observation. Only through such efforts can we give a stage performance. Also part of producing a play are the PR activities to announce our performance, the reception at the theater, and all the administrative preparations, to which I also intend to pay attention.
I have thus managed to develop the ability to think from multiple perspectives, which resonates with the phrase I read in my department's student pamphlet: "students who can think from a comprehensive perspective." I cannot tell whether I have actually become the person I aimed to be, but I certainly hope to continue to be a "thinker" and to use the ability to shape my future, always considering multiple perspectives whatever work I engage in and never being an aimless and inattentive worker.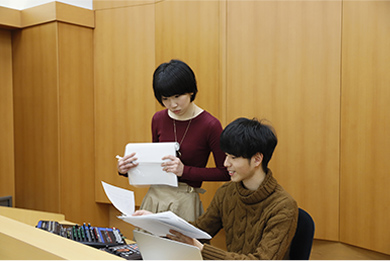 Aoyama Gakuin University Engeki Kenkyukai (Aogeki)
Each year, five regular performances are presented: the New Student Welcome Performance (April), New Talent Performance (June), Summer Performance (August), Aoyama Festival Performance (October), and Graduation Performance (March). In addition, other performances are also presented on a voluntary basis by groups of Aogeki members. As performances are given at short intervals, club members practice four times a week, which naturally brings them together and allows them to form strong bonds with one another. Performances are presented in classrooms on Aoyama Campus and in small theaters in and around Tokyo.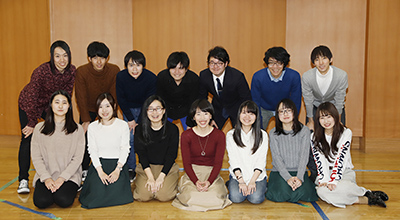 Where Aogeki members spend their time
(1) Engeki Kenkyukai clubroom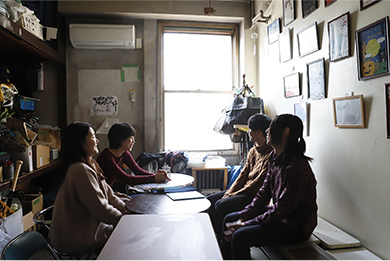 Many Aogeki members gather in the clubroom at lunchtime to have lunch. The place is a magnet for members, and at times there is not enough space for everyone to sit down. The room also serves as a storage area for sets, props, and costumes as well as fliers of past performances, which I often enjoy browsing through. Having seen past members of Aogeki depicted in the fliers, I have grown to feel close to them, even though I have never actually met them before.
ASAHARA Kensho
Freshman student
Department of Physics and Mathematics
College of Science and Engineering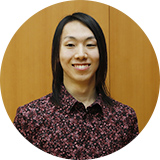 (2) Extracurricular Activity Room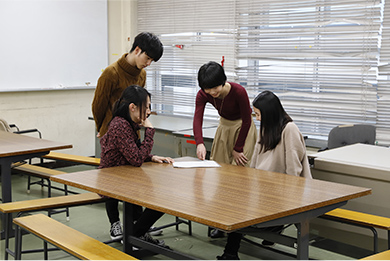 We often use this room for practice because we can speak in loud voices and there is plenty of space to move around. This room is also conveniently located close to our clubroom, so we usually make stage sets and other tools here and take them to the clubroom. The many desks and chairs here are often used as sets.
SAWANO Atsumi
Sophomore student
Department of Education College of Education, Psychology and Human Studies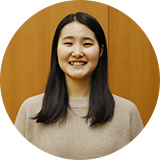 (3) Aoyama Gakuin ASTUDIO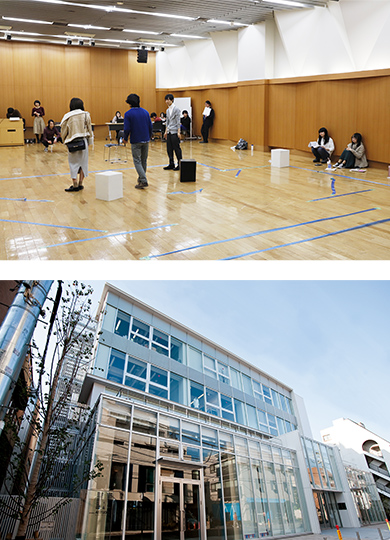 We use this studio to practice during long holidays. It is spacious and equipped with lighting equipment, which is convenient for our practice. Because the studio is close to the university, our New Student Welcome Performance is presented here in order to encourage lots of AGU students to come and see it. It is also free of charge, which is really helpful for Aogeki.
KATAYOSE Taichi
Freshman student
Department of Economics College of Economics