Deliver the warmth of candle light to many places
Posted on December 13, 2019
Representative Director
Japan Candle Association
KANDA Yu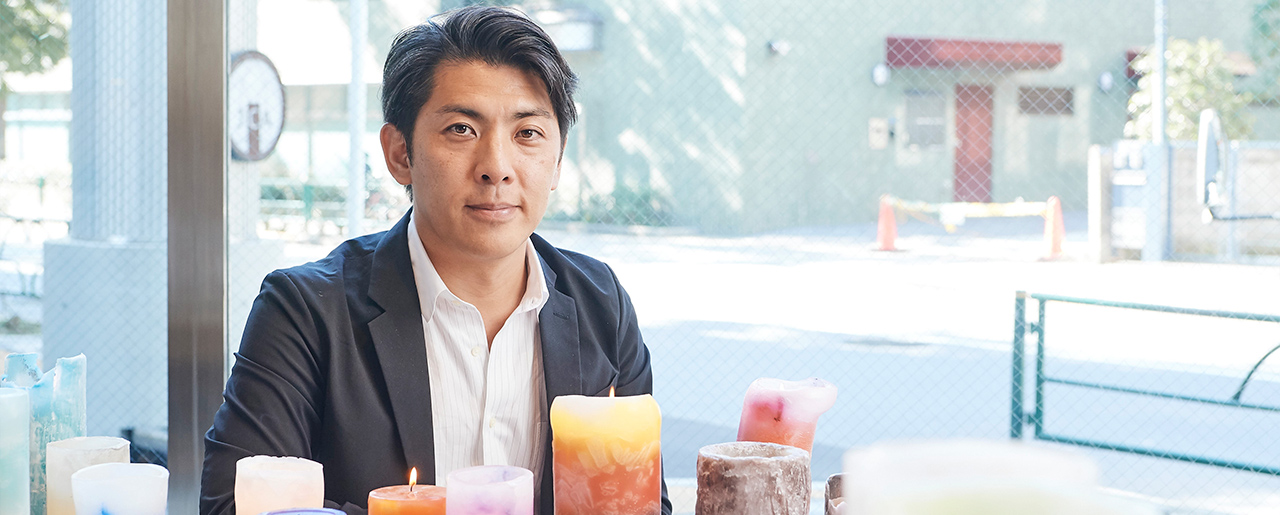 OVERVIEW
Aoyama Gakuin University, offering precious opportunities for study, encounters with people, and self-development activities, produces many talented individuals. What on campus actually inspires individual students to pursue their aspirations?
This article introduces alumni working to contribute to the good of society in various ways, capitalizing on their experience in different fields.
Communicate the value of candles
Have you used candles recently? In Europe and the Americas, among other regions, candles are a familiar item used commonly for various purposes and in many places, such as indirect lighting at home, table lighting at restaurants, and ritual articles in churches.
In contrast, Japanese people generally do not have the custom of using candles in everyday life. For many, the item is employed only for special occasions, such as someone's birthday, which is often celebrated with a candle-topped cake. And, they are unaware that candles have far more to offer than just that. This includes the attractive warmth of natural lighting and the effect of inspiring a sense of gratitude toward the benefits of nature, a key concept of the Slow Life movement, which is gradually taking root in Japan. Wishing to promote public awareness of the value and benefits of candles, I established the Japan Candle Association (JCA) in 2009. The JCA has developed relevant systems to launch candle school courses and qualification and certification programs. We now operate a total of 34 schools in and outside of Japan, and have issued more than 5,000 certificates in cumulative total for completing the courses.
JCA offers two professional courses for Candle Artist and Candle Instructor. Those who have completed the courses are certified to engage in business activities, such as selling products, undertaking decoration projects, and working as a candle-making instructor. We also run programs to help graduates with professional activities, specifically for skills enhancement training, support for career development, and campaigns to raise the recognition of their professions. Through these efforts, primarily in Japan, we aim to encourage wider use of candles to add color to lifestyles and increase public understanding of the professional careers involved in use of candles.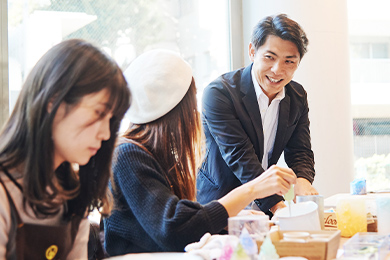 As representative director, I am in charge of developing new projects to promote broader use of candles. As such, I have organized many promotion programs, including a partnership with Daikanyama Noël. This is a Christmas celebration event started in 2016 that engages the entire Daikanyama district in candle-related activities, thus being known as one of Japan's largest candle-themed projects. Being a partner from 2017, the JCA hosts a number of programs, installing splendid candle artist creations throughout the town, and running a Christmas candles market and candle-making workshops. The partnership plan was first proposed when I participated in greenbird, a street cleanup campaign in Daikanyama. I met a member of the Daikanyama Noël executive committee, who became interested in my stories about candles. That was the result of my endeavor to seek new encounters outside the association, looking for opportunities to launch new collaborations, expand our activities, and produce new business ideas.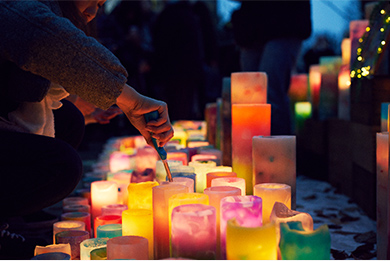 Candles are, first and foremost, attractive lighting equipment, but you can expand the enjoyment of the item―through creation activity. Candles are made mainly from wax, and there are many types of candle waxes with different melting points and viscosity properties.
There are also many wax blending formulas and techniques. Given the huge variety of materials and formulas, even with basic formulation techniques, you can have an infinite number of potential combinations to produce candles. Due to this, the production process has a very intriguing aspect comparable to chemical experiments and artistic activities. This creative pursuit may become irresistibly enthralling, occupying your every waking thought on the work in hand. Candle making is easy to start with materials easily available, and the making process is fascinatingly creative, driving you to inexhaustible explorations of desired techniques. Once completing a project, you can not only enjoy the soothing light of your products, but also appreciate the fantastical minute-to-minute changes in the shape of a burning candle. In Japan, where candles are less popular than in other countries, I am working so that many people understand these benefits and the effects of the items, hoping to build and expand a culture of enjoying candles widely in society.
Study hard and play hard
I entered Aoyama Gakuin from junior high school, attending junior and senior high schools and going on to university. My favorite subject was English, and I was enrolled in senior high school overseas as an exchange student for one year. Returning to Japan, I advanced to university, choosing the School of International Politics, Economics and Communication. The faculty was new and placed a heavy weight on English education. At some time in my earliest days at university, I made an overall student life plan, devoting the first two years to non-academic pursuits of personal interest and the remaining two to academic activities. I immediately began to practice the plan, indulging myself fully in dream-like campus life activities, such as driving my own car to school on the Atsugi campus (closed in 2003), often together with friends, playing tennis day after day, and engaging in a number of romances.
One of the key advantages of being a student lies in having a lot of free time, one of the most exclusive, limited-time privileges in life. You can spend the time as you like, but should do so with a view to preparing for the future. I believe this will make a significant difference. When I was entering the second half of the second year at university, I began to think about how I should spend the remaining two years to prepare for the future.

I took an accounting course, without any specific future plan, and received high evaluation marks for my reports, which aroused my interest in a career as an accountant. Thus, while also looking for an opportunity to practice my English speaking skills, I enrolled in seminars hosted by Professor Robert Mcilroy (now retired), known as a forbiddingly demanding teacher, with the aim of passing the CPA examination before graduation. Actually, I found Professor Mcilroy to be a great motivator, who inspired students with his original axioms, including my favorite: "the three keys to a successful life are English, accounting and IT." He also had a strong passion for instruction, continuing his class even during the school festival period in a place rented outside of the campus. I was driven by his enthusiasm to begin studying hard, up to 15 hours a day, turning into a different person. I devoted myself single-mindedly to my studies, declining my friends' invitations to social activities, until as a result, I became the first seminar participant to pass the CPA examination immediately after graduation. And I found a job at a major auditing firm.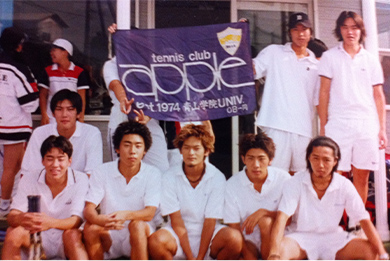 About three years after starting my professional career, I decided to live with three of my best friends outside of the company, and we rented a house in Shichirigahama, Kamakura City, one of our favorite towns, to begin a new life. Sharing an entrepreneurial drive by nature, we planned to do something to help enliven local communities. The four of us formed a group named "Kamaccho," which was coined to denote "Visit Kamakura," to launch various activities involving local residents. The first thing we did was to join a local neighborhood association, an essential approach to new comers getting accepted by the established society. Then, the group started to engage in community programs, such as participating in the summer festival every year to set up a shaved ice shop drawing many children, and hosting neighborhood cook-outs inviting locals. One day, through these activities, I met a person pursuing the practice of candle making for pleasure and business together. That brought the electrifying discovery of the possibility of making candles at home. The idea was shockingly new to me, as I usually saw the product around but had never thought of the possibility of its becoming a target of a personal passion.
That unforgettable episode stimulated my interest in candles, leading to the group organizing a Christmas event featuring candles. We dressed as Santa Claus and reindeers, and walked throughout Kamakura towns, giving away Christmas candies along with clear glasses and asking recipients to write a wish on them. We collected a total of 300 glasses with a wish written on them, placed a candle in each glass, displayed them on the steps of a staircase on Shichirigahama beach, and lit the candles all at once. That was the first candle-based event I ever produced.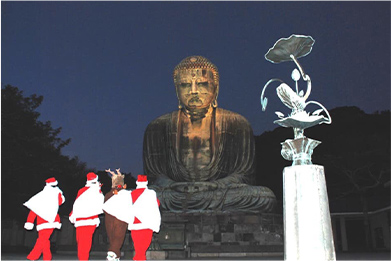 Present candle light event to highlight the beauty of alma mater
I had never thought of starting up a business before the "encounter" with candles. However, I rushed out to establish the JCA, even before getting well-prepared by doing market research and other processes, almost being carried away by an uncontrollable impulse. To run a business, I simply thought that in Japan, given its long-established manufacturing industry and culture, the practice of making candles could easily find its way into society and create a sizable market. Nonetheless, my basic motivation came from the desire to be a candle advocate and to communicate what candles have to offer to enrich people's lifestyles, rather than from interest in business. This can be likened to sharing information via social media about a good restaurant I found.

To develop the JCA's operations, I utilized my past experience and knowledge built as a student and employee. Among major examples are accounting knowledge employed to process financial duties for managing the association, and consulting skills to support individual Candle Artists and Candle Instructors to build and continue professional careers, giving advice on a range of business tasks, from selecting locations and attracting customers, to performing accounting processes.
Recently, I was invited by Aoyama Gakuin University to participate in its illumination project. It's a great honor to be given an opportunity to serve our advocacy objective at my alma mater. The recent invitation was possible owing to many persons associated with the school, particularly Rev. Daisuke Ito, a pastor at United Church of Christ in Japan Honda Memorial Church (Shibuya,Tokyo), which was founded to commemorate Yoichi Honda, second chancellor of Aoyama Gakuin. Rev. Ito is also an adjunct instructor at the university. I became acquainted with those concerned through Daikanyama Noël activities. We clicked with each other, proposing lighting-up plans to make a tie-up between Daikanyama Noël and Aoyama Gakuin University. The rapport-driven discussion resulted in the planned candlelit campus event taking place on the Aoyama Campus, highlighting Berry Hall and Majima Memorial Hall, over a period from November 11, 2019 to January 6, 2020. I am truly grateful to be able to be involved in this project, which has provided a precious opportunity to revisit my old school.

Berry Hall and Majima Memorial Hall, the highlighted targets, are Registered Tangible Cultural Properties (structures) designated by the national government for their superior western-style modern architectural designs. Returning to the campus after many years to do work on the two buildings, I newly recognized their distinctively elegant appearance, which seemingly fail to catch the eyes of many students passing by, as they did in my student days. The coming event, I hope, will help many people become aware of the striking sight of the valuable properties. And, I also wish, through the successful delivery of this undertaking, to repay my old school for all that it has given me.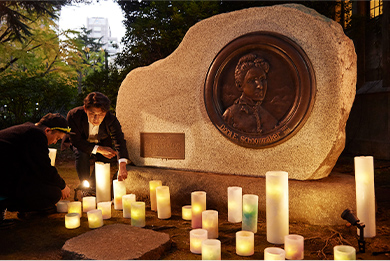 University can generate dynamism out of diverse individuals with different values and backgrounds. I met many good friends at university, and they have become one of my greatest treasures. In business, what you do is important, surely, but what matters most, I believe, is who you work with. At work or at home, one key to leading an enriched life is to spend quality time with those you trust, and connecting with good people will lead you naturally in the right direction. In this regard, Aoyama Gakuin University is excellent, being equipped to draw many talented students and prepare young individuals to be able to steer their own life in society, overcoming the potential hardships ahead of them.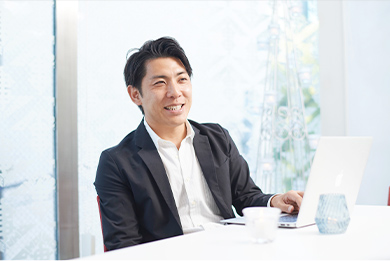 Yo-no-Hikari Candle Light Project on Aoyama Campus
Candlelit campus event run over a period from Monday, November 11, 2019 to Monday, January 6, 2020
The event will take place on the Aoyama Campus, illuminating the Berry Hall and Majima Memorial Hall as well as statues and monuments installed around the halls in honor of the four missionaries who contributed to the founding of Aoyama Gakuin―Drs. Dora E. Schoonmaker, Julius Soper, Robert S. Maclay and John F. Goucher―and former school chancellor Yoichi Honda. Toward the end of 2019, the year celebrating the 145th and 70th anniversary of the founding of Aoyama Gakuin and Aoyama Gakuin University, respectively, the campus will be enveloped in the phenomenal warmth of colorful candle light.