Learning Enhances Awareness of Local Communities
Posted on March 6, 2020
Freshman student
Department of Community Studies
College of Community Studies
IWASHITA Takashi
From Kofu First High School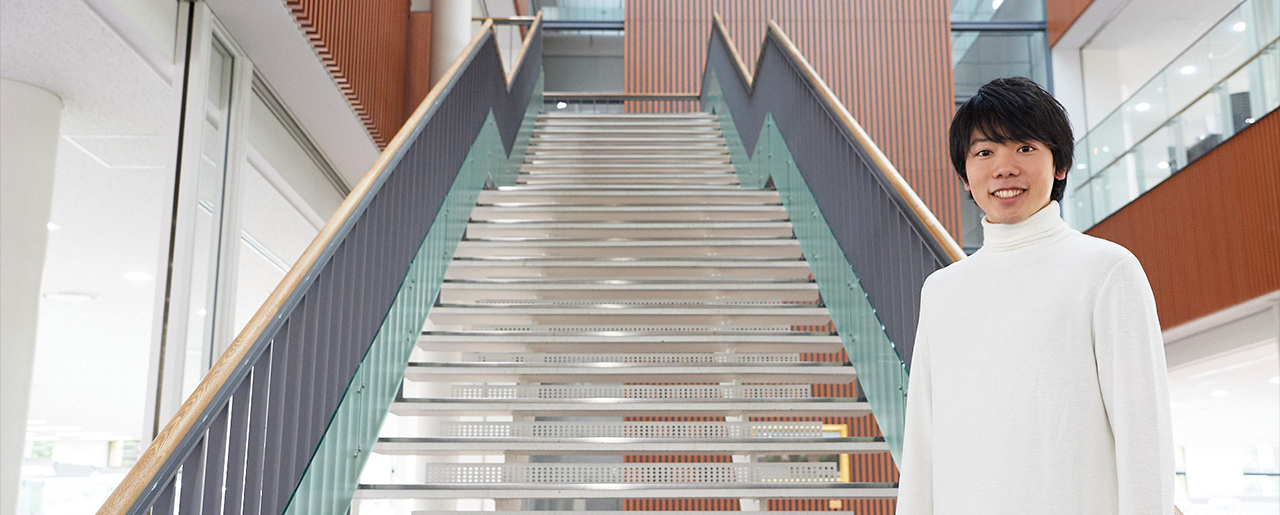 OVERVIEW
The College of Community Studies aims at fostering the practical knowledge and skills needed to help build and vitalize local communities. Opened in academic year 2019, the College welcomed its first class of students, who are studying proactively to fulfill their goals and dreams.
Creating a new learning environment with teachers
—A privilege exclusive to the first class of students
When I was a high school student in Yamanashi Prefecture, I was engaged in an initiative to explore multidisciplinary measures for vitalizing local communities by referring to global social issues. Observing the realities of my local community and conducting in-depth investigations through the initiative sparked my interest in learning about local communities.
My dream is to engage in a field related to art. In fact, this dream is rooted in my local community.
In my hometown, musical performances were given by children, and I used to take part, starting from the first year in elementary school until the second year in junior high school. I found pleasure in expressing myself through singing and acting, and came to dream of performing on stage as a professional.
The musicals were organized as part of a local art promotion project, with performers practicing at the community center and the performances staged at the city's culture hall. When I became interested in learning about local communities in my high school days, I realized that the musicals, which I had enjoyed being a part of since childhood and which led me to my dream, were also an activity rooted in the locality. I perceived that I had been deeply involved in my local community without even realizing it, which made me feel closer to my home community. I think this is one of the reasons why I decided to study local communities at university.
The College of Community Studies was established when I enrolled in Aoyama Gakuin University (AGU). Incidentally, I was also in the first batch of students at a new department of my high school. I have a liking for taking on new challenges, so instead of having concerns about my College being new, I was full of hope about building a new college with my teachers. In fact, the College of Community Studies is a highly flexible place where the style of teaching is not one-sided, but two-way. I remember providing teachers with information on the local community solution-seeking activity I had been engaged in as a high school student. Thus, the teachers and students communicated bilaterally to jointly create a new learning environment.
Students at the College study on Sagamihara Campus over four years. My first impression of the campus was, "a very comfortable place to be." AGU is often regarded as being synonymous with its urban and fashionable Aoyama Campus, but when I first visited Sagamihara Campus at open campus, I felt very much at home because the atmosphere resembled that of my hometown. The campus is full of the lush greenery of trees and grass, and the buildings are clean. The environment allows us to settle down and study.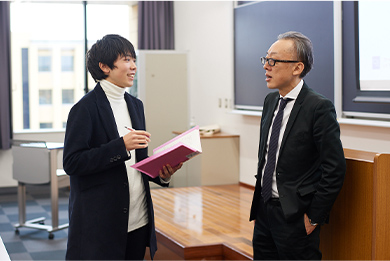 Thinking outside the box aiming for comprehensive understanding of local communities
When I started studying at AGU, I was startled by how ignorant I was about various aspects of "local communities," a field I thought I was quite familiar with. In other words, AGU provided me with an opportunity to realize that I had been seeing local communities only through my own experience.
Introduction to Local Authorities, a course on laws and ordinances that sustain local communities, was particularly impressive. I had known that there were all kinds of organizations and facilities in local regions conducting diverse activities, but I had never been aware of the Local Autonomy Act and other laws that form their legal basis. The course opened my eyes to the legal approach to local communities, which intrigued me. In addition to laws, there are all kinds of elements that sustain local communities. Many local municipalities formulate what they refer to as a comprehensive plan, which was also interesting to learn about. Administrative measures for local residents such as those for children, senior residents, and residents with disabilities, may seem as if they were independently undertaken for the respective targets, but many of them, in fact, are interrelated to one another under a comprehensive plan. One example is the community school program.
The community school program is carried out by schools nationwide, with local residents and parents participating in school administration. In some municipalities, the program is incorporated into their comprehensive plan. I used to think that decisions concerning schools were made by their teachers and education board, but I learned that under this program, school communities and local communities join forces to improve the education of children, and that local communities are assuming a greater role in society today.
During the past year, I have become more aware of "local communities" in my day-to-day life, which was a significant change for me. Since I began studying at AGU, I have become more observant of community centers and other facilities run by local communities. When I happen to see a flyer of an event for a club for children or senior citizens, I check out its organizer and activity details. When I read the newspaper, I not only peruse the front page and general news page, but also thoroughly read the local community page. Whenever I see an ad insert on a store boasting its service to the local community, I am interested in its service details. Now that I am more sensitive to the presence of local communities, I now have a true sense of how people from all walks of life think about and take actions for their local communities.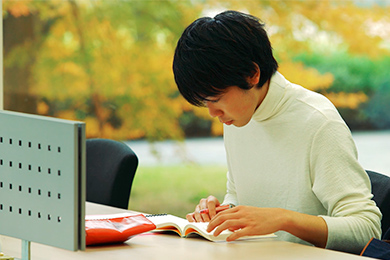 My style of studying has also changed drastically. Up until high school, I used to simply review what I learned in class, but now, I focus on deepening my thoughts and ideas about what I acquired in class. To this end, with regard to each lecture, I make efforts to think for myself, take notes, do some research by reading books, and gain a deeper understanding. If I have any questions or find something particularly interesting, I visit the teacher's office to seek support in person. All my teachers are welcoming, so I feel I'm in an environment conducive to proactive learning.
Desiring to create and promote local communities through art
  At the College of Community Studies, we study the basics in our first year, and then proceed to enroll in one of five programs from the second year to acquire practical knowledge. I chose to enroll in the community creation planning program to acquire the knowledge and skills needed to create local communities. My desire is to integrate the specialized knowledge I acquire here with my stage experience in order to engage in activities that vitalize local communities through art.
In my second year onwards, I am especially looking forward to field work by way of participating in actual local community activities. In the hope of spending some time studying in a community that engages in art activities, I am trying to find a host locality that organizes traditional art events and local festivals. Currently, I am seeking advice from my teachers to make specific study plans.
Promoting local communities through art involves encouraging the wide participation of people of all ages and genders. In addition to attending classes under the community creation planning program, I would also like to learn from teachers of other specialized areas including women's/child/elderly studies so as to acquire a multifaceted perspective.
When I tell people that I want to become an actor or a dancer who can contribute to local communities, I am sometimes asked, "Then why are you studying at college?" In my opinion, just because you seek to engage in a particular occupation, you do not necessarily have to study at a university/college related to the occupation. Professor Makoto Suzuki, the dean of the College of Community Studies, says in a video, "Students enrolled in this College are not necessarily expected to become officials of local municipalities. My wish is for them to get involved in and contribute to local communities and community building in some way or another while engaging in whatever job they choose to do." This account reassured me that I am on the right track.
My goal is to acquire methods and perspectives to combine specialized knowledge about local communities with my childhood dream, and give back what I received from my local community. To this end, I intend to learn all I can through my four years at this College.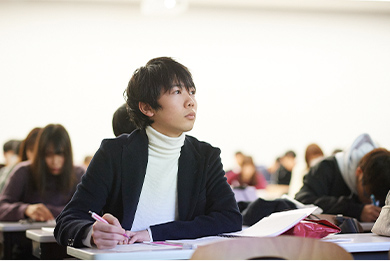 Studying at College of Community Studies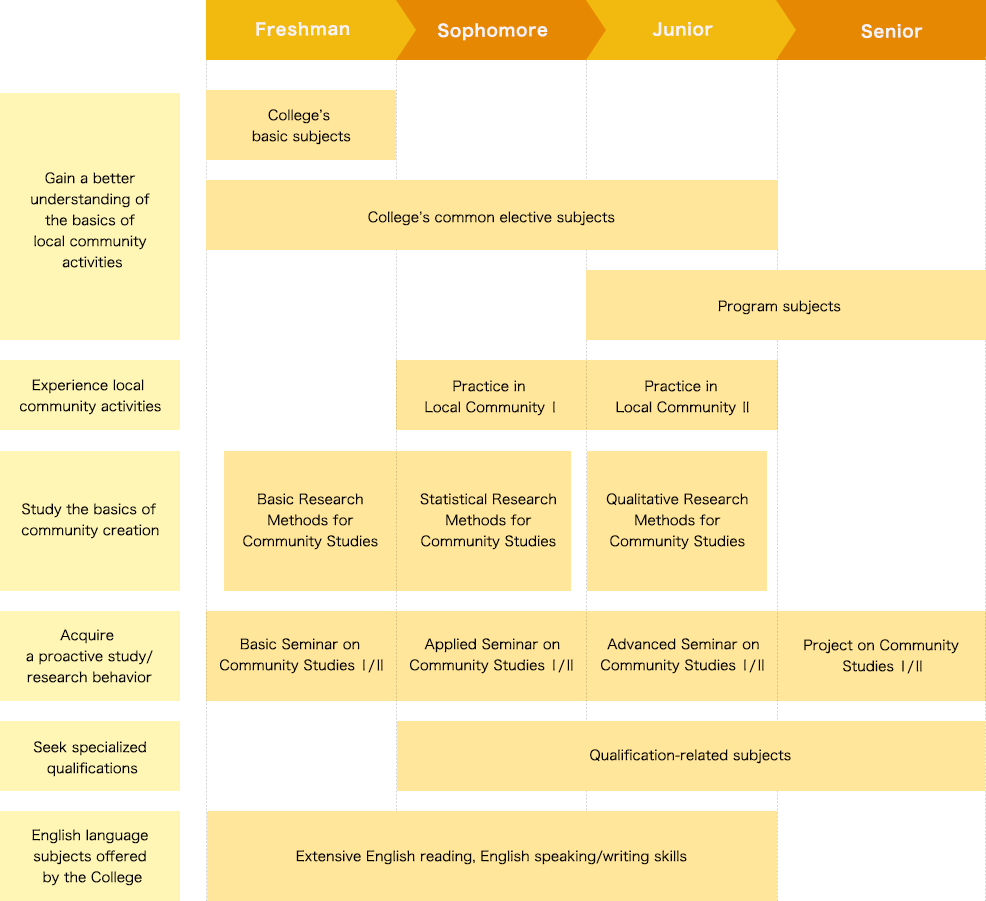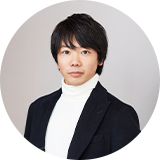 Comment by IWASHITA Takashi on the first-year curriculum of the College of Community Studies
"During the first year, I managed to acquire the perspective and knowledge needed to understand local communities from an overall viewpoint."
College enrolled
College of Community Studies
The College of Community Studies aims to develop local societies into genuine communities composed of members who can act autonomously, to support people for this purpose, and to encourage students to become such constituent members.