Fresh Harmony Created from Months Spent with Other Members
Posted on December 20, 2019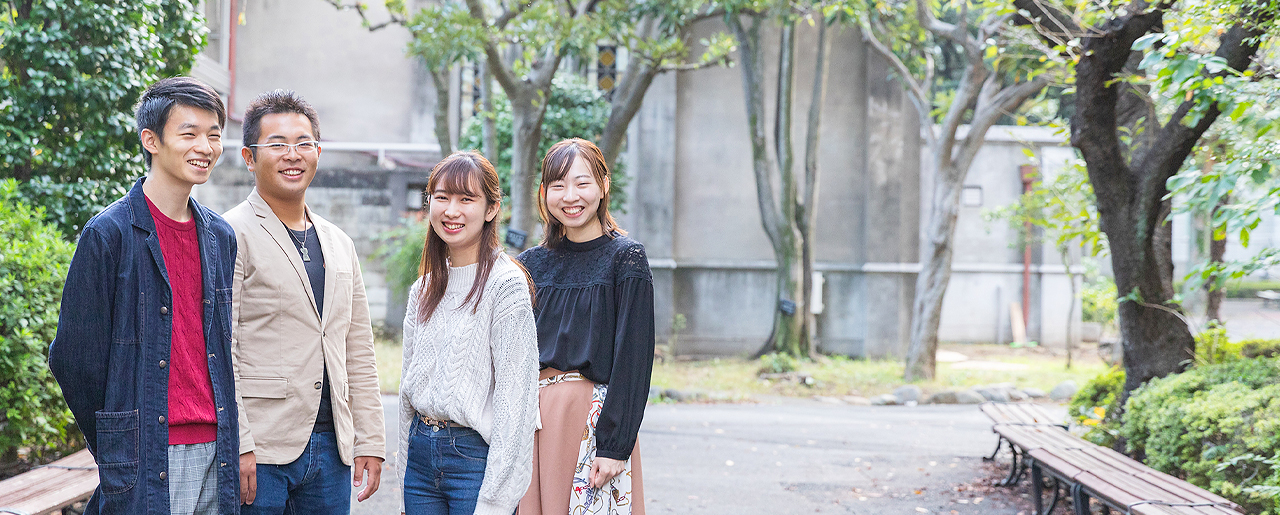 OVERVIEW
Learning opportunities at a university are provided not only through classes, but also through clubs, circles, and other extracurricular activities including volunteering. Here are some students who have worked hard outside the classroom, acquiring new insights that will help them move out into the world.
Aoyama Gakuin Orchestra (AGO), which is the orchestra division of Aoyama Gakuin University (AGU)'s joint association of cultural clubs and the orchestra division of Aoyama Gakuin Women's Junior College combined, has more than 130 members including students of other universities.
AGO performs regular concerts twice a year, in spring and autumn, where three pieces of music are performed. AGO members spend half a year preparing for each regular concert.
The following is a group interview with AGO's president, concertmistress, stage manager, and president-designate on how the large group of students spend long hours together to put together works of music.
(The interview was held on October 30, 2019.)
TALK MEMBERS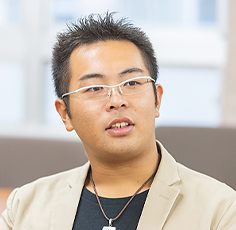 President
Musical instrument:Percussion
Junior student
Department of Comparative Arts
College of Literature
SUZUKI Manaya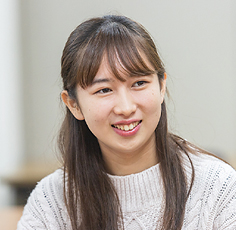 Concertmistress
Musical instrument:Violin
Junior student
Department of Childhood Studies
Aoyama Gakuin Women's Junior College
SUZUKI Mayumi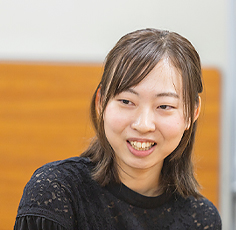 Stage manager
Musical instrument:Cello
Junior student
Department of Comparative Arts
College of Literature
MATSUMOTO Shiori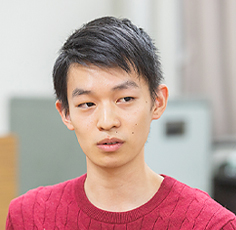 President-designate
Musical instrument:Bassoon
Sophomore student
Department of Comparative Arts
College of Literature
YAMAZAKI Keisuke
Seeking musical profundity through professional guidance and mutual teaching
―What are the primary activities of AGO?
Suzuki[Manaya]:We usually practice three times a week on Aoyama Campus. Our primary activity is to put on regular concerts twice a year in May and November. We spend six months preparing for each concert.
Suzuki[Mayumi]:In addition, we perform upon request for alumni orchestras, organize an ensemble event by our members in June, and give the Messiah concert in December, so our activities are wide-ranging, but the regular concerts get us most fired up. When we perform in response to requests, we occasionally play the pieces presented at a regular concert.
Matsumoto: I agree, the regular concerts are our biggest goals. We always get to perform in wonderful halls with large audiences, so we are under tremendous pressure to succeed!
For example, our spring concert on Saturday, June 1, 2019 was performed at the Tokyo Metropolitan Theatre in Ikebukuro (Toshima-ku, Tokyo) and our autumn concert on Sunday November 3, 2019, a national holiday, will be performed at Tokyo Opera City Concert Hall (Shinjuku-ku, Tokyo), both of which are great concert halls.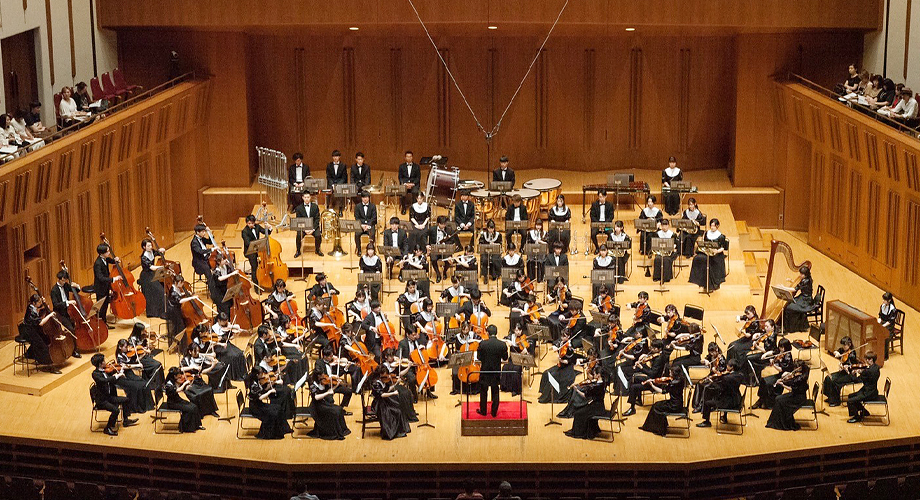 ―How are practice sessions organized?
Suzuki[Manaya]:Professional conductors who conduct our regular concerts give us lessons on a weekly basis. In addition, players of the NHK Symphony Orchestra teach us in instrument groups.
However, a lot of the time we are without teachers, so we practice in instrument groups, with senior members providing guidance to junior members. On many occasions, it could be the other way round; in other words, we also learn from junior members.
Yamazaki:Oh no, we can't teach senior members!
Suzuki[Mayumi]:Since I joined the university orchestra, I have learned a lot more than instrumental technique. Watching the senior members of the orchestra acquire wide-ranging knowledge about the pieces we play, including their compositional background, to enhance the quality of our performance has taught us numerous things.
I also played music when I was in high school, but my goal then was simply to practice and be able to play each piece of music. I didn't think about how to interpret the pieces, so it was an eye-opening experience for me.
Yamazaki:I'm a second-year student, so I am learning from the third-year students now. At times, I feel their interpretation of the music is different from my own, in which case, I express my views despite being a junior. Senior members kindly listen to what I have to say and we discuss our differences. It's fun to create pieces of music by combining different opinions.
Suzuki[Manaya]:We are a huge group of about 130 members, many of whom are beginners, but we can become a unified team. With nine directors, section leaders and other roles, we cooperate and run the orchestra as a single team.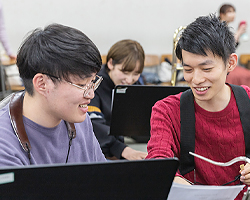 Valuable experience of spending months to produce music
―How do you prepare for the regular concerts, which are your main activity?
Suzuki[Manaya]:Our next concert is coming up on November 3, 2019.
Our venue, Tokyo Opera City Concert Hall, was decided two years ago, and the candidate pieces were listed up by conducting a questionnaire survey among members in February last winter. The list was narrowed down through discussions by instrument group leaders. The main piece was decided in around April, as I recall.
Suzuki[Mayumi]:Yes, it was in April that we finally decided on our main piece. We play three pieces at regular concerts, but we first decide on the main piece, which is the last piece on the program. This year, our main piece is Sibelius's Symphony No. 2. In my opinion, this piece perfectly fits the distinct characteristic of our third-year group, which leads the entire orchestra.
Matsumoto:You have a point. I don't think the second-years would have chosen the piece. I actually wanted to play something else, but I have become attached to the piece as I spend more time practicing it.
Suzuki[Manaya]:I agree. I also wanted to play a different piece, but I do think Sibelius is a perfect match for our year group. This also goes for Brahms's Symphony No. 2, the main piece in our last spring concert. They are both graceful, reserved, and calm. The second-year players are a larger group than us and each of them has a more distinct personality, so they probably would have chosen a different piece.
Yamazaki:That's maybe because many of the second-years are passionate. The third-years are more closely knit and unified as a team.
Suzuki[Manaya]:We decided on the remaining two pieces in July by considering the entire program balance and the burden on the beginners. Then came the summer holidays, when we practiced four days a week, four to five hours a day. In August, we went on a summer practice camp over five nights/six days. On the last two days, our conductor kindly joined us to teach us.
―Do you spend a lot of time preparing for regular concerts?
Yamazaki:Professional players are equipped with the essential technique, so they may only need about three practice sessions and a single rehearsal before the real stage, but we need a lot more time to prepare. But long hours of practice enable us to try out a lot of different approaches. As a bassoon player, for example, I can try playing the catchy part differently each time I play. Even if we play the same score repeatedly, completely different performances can be delivered depending on the interpretation, so it's intriguing.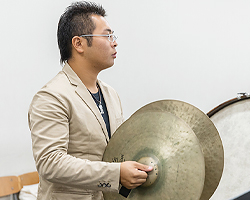 Suzuki[Manaya]:The more time we spend practicing, the more we discover. Some new findings are self-discovered, found through trying out different approaches and studying how the pieces are interpreted, while others are pointed out by teachers or other players. A musical note can be played in countless different ways, for example, in terms of how to start it off, extend it, and terminate it. Musical scores are merely a collection of symbols, but as you spend more time with them, you keep seeing new elements in them over time.
Suzuki[Mayumi]: As we practice the same piece of music over and over again, we develop a deep sense of attachment to it. We gradually build the piece of music through the process of listening to a variety of sound sources and opinions. It's not enough to simply think about our own instrumental parts—we also need to play in conjunction with other instruments, make eye contact, and seek synchronization. At times, playing together sheds light on what we couldn't see before.
Matsumoto:It becomes fun not only when you learn to play your part better, but also when you understand how other instruments weave into your music.
Suzuki[Mayumi]:That's why we are always filled with a sense of accomplishment when the concert is over! Playing in a spectacular hall and being applauded by a large audience makes us feel happy that we achieved a successful concert.
Suzuki[Manaya]: It takes more than just practicing music to give a successful concert, especially in the case of directors. My experience as a director has made me more patient. Because AGO is a large group, we must seek consensus to shape a performance while respecting the desires of each individual. If each of us just pursued whatever we wanted to, we would not be able to unify the orchestra as a single team. But I must say that the job of a stage manager is much more demanding. It's easier for the president because he or she just needs to keep track of the entire orchestra.
Matsumoto:Well, indeed, I'm swamped with work right now ahead of the regular concert in November at Tokyo Opera City Concert Hall. Of course, I'm not alone in this, but I do have a lot to do, such as making a seating chart for the orchestra and liaising with the hall staff and other people outside. I need to deal with all matters efficiently and without fail, and I also need to practice too. The good thing about having to deal with piles of work is that I now know how others feel when they have negative thoughts. From now on, when other members feel reluctant to practice, for example, I hope I'll show empathy instead of pushing them into practicing.
Yamazaki:The directors of the orchestra work late every day after our long practice sessions. Members of AGU's sports clubs may be practicing harder for one match after another, but the unique thing about AGO is that we spend half a year practicing and preparing for a concert that only lasts two and a half hours.
Suzuki[Manaya]:We do spend a long time preparing for concerts. You could say that the orchestra is a club that pursues quality rather than efficiency.
Suzuki[Mayumi]:Yes, all the hard work for just one concert.
Suzuki[Manaya]: At university, we are placed in classes, but we don't really do anything as a class. AGO provides us with a rare opportunity to engage in a project as a team over a long period. Despite being busy attending classes and doing part-time jobs, we all come to practice three times a week, which is quite a large chunk of our student life.
When a large group of 130 members spend a long time on a single project, issues arise at times. But because our ultimate goal is to give a good concert, members do turn up for practice and perform on stage. Being in this orchestra essentially requires a love for music and an aspiration to perform well on stage. So, with each regular concert, we can improve and grow both in terms of our technique and mindset.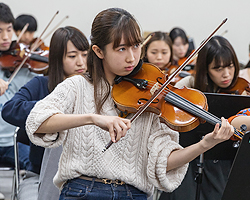 Autumn concert, third-years' consummation of orchestral life
―How do you feel now, with the regular concert coming up soon?
Matsumoto: As a stage manager, the preparations are in their final stretch. That a stage manager will get things done properly is taken for granted. If any negligence is found, people will naturally think, "What's wrong with the stage manager?" If a stage manager blunders, the entire performance could be ruined. Our activities are centered around the two-and-a-half-hour regular concerts, for which everyone spends a long time preparing. I value their dedication, and hope to create a stage where everyone can play comfortably. I must stay focused until the very end when everyone packs up and leaves the hall.
Suzuki[Mayumi]:I see what you mean. A concertmistress has only to concentrate on the performance, but a stage manager has to take care of other things too. I can imagine how demanding it must be.
There are also many other members who engage in administration and other matters backstage. We owe our performance to all of these people and the junior members of the orchestra, so I'm truly grateful. The upcoming regular concert this autumn will be a consummation of the orchestral life of the third-years before retiring, so I hope to present a great performance for the audience.
Yamazaki:The senior members are working very hard to give a successful concert both in terms of musical performance and administrative operations, so I certainly hope to give my best performance as a junior member as a way to bid farewell to the senior members. As a president-designate, I would like to motivate my peers to support the senior members.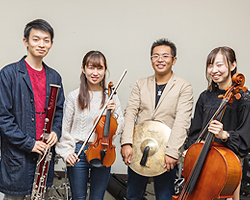 Suzuki[Manaya]:When we're on stage, we should concentrate on our performance and pursue our ideal music. Working as one of the directors brings me a sense of accomplishment, but, ultimately speaking, we are all gathered together to play music. Each member of the orchestra has their individual desire, such as the desire to enjoy music and the desire to entertain the audience. My hope is that the desires can be fulfilled through the concert.
Schedule leading up to a regular concert
Two years before the concert⋯
Concert venue finalized

As regular concerts are performed on a Saturday, Sunday or national holiday, early preparation is required to secure a good concert hall. Tokyo Opera City Concert Hall was reserved two years prior to the concert.

8 months before the concert⋯
List of candidate pieces is created.

A questionnaire survey is conducted to create a list of pieces that members wish to play.

4 months before the concert⋯
Concert program is finalized; individual practice starts.

Instrument group leaders hold discussions to narrow down the list of candidate main pieces to three, and choose one through a vote. The remaining two pieces are decided in consideration of the main piece to seek a well-balanced program.

3 months before the concert⋯
Summer practice camp

In addition to the practice sessions held four times a week during the summer holidays, an intensive summer practice camp is held over five nights/six days.

1 month before the concert⋯
Ensemble and instrument group practices

Repeated instrument group practices and ensemble practices allow players to clearly hear the notes played by other sections of the orchestra, which enhances understanding of the entire pieces, bringing the pieces nearer to perfection.

Day of the concert

Finally, the day has come!
Aoyama Gakuin Orchestra (AGO)
In addition to its mainstay regular concerts in spring and autumn, AGO presents the All Aoyama Messiah concert in December, plays at commencement ceremonies, participates in the Aoyama Festival, and also performs upon request. In June each year, an ensemble event is held within AGO to allow players to enjoy playing in smaller groups. Practice sessions are held three times a week: 18:30 to 21:00 on Wednesdays and Thursdays and 14:00 to 17:00 on Saturdays. Additionally, AGO members go on week-long intensive practice camps held in late February and late August complete with lessons given by players of the NHK Symphony Orchestra.